IBM
has over 2500 job openings spread across United States:
https://jobs3.netmedia1.com/cp/find.ibm.jobs/location/USA/
(vs.
http://forums.anandtech.com/showthread.php?t=2277109
)
SalesForce.com:
http://www.salesforce.com/careers/main/
(fast growing cloud computing company; their video says you might even be able to work from home)
(Looks like IBM is trying to make some push into cloud computing to compete with Amazon Web Services:
http://online.wsj.com/article/SB10000872396390444083304578018843577451404.html
)
Skilled Factory Worker Apprenticeships:
(Siemens and others in Charlotte, NC local area)
-
http://www.npr.org/2012/07/26/157033600/bypassing-college-dreams-a-different-road-to-work
-
http://www.bizjournals.com/charlotte/print-edition/2011/06/17/a-big-investment-in-youth.html?page=all
-
http://globalpublicsquare.blogs.cnn.com/2012/09/23/gps-job-special-putting-america-to-work/
-
http://apprenticeship2000.com/
General Electric
- industrial conglomerate
- 1800 plus job openings spread across many states in US
-
http://jobs.gecareers.com/
"General Electric is a diversified manufacturer and is organized into four segments: technology infrastructure, energy infrastructure, home and business services, and capital services."





Walt Disney Company
- company seems to be doing really good business (raising prices at parks and still seeing tremendous number of customers still come to parks
http://www.cnbc.com/id/48557316
), so presumably they are hiring
-
http://disneycareers.com/en/default/
"Disney owns the rights to some of the most famous characters ever created, including Mickey Mouse and Winnie the Pooh. These characters and others are featured in several theme parks Disney owns or licenses around the world. Disney makes live-action and animated films under several labels and owns ABC, Disney Channel, and ESPN. Disney also owns a 42.5% stake in A&E, The History Channel, and Lifetime Networks. The company generates about 25% of its sales from outside the United States."
General Motors to hire up to 10,000 computer IT workers in next 3 - 5 years:
-
http://bottomline.nbcnews.com/_news/2012/10/08/14299378-gm-now-hiring-10000-information-technology-workers?lite
-
http://careers.gm.com/career-tracks/technical/information-technology.html
- Nissan was looking for 50 engineers:
http://www.detroitnews.com/article/20120809/AUTO0104/208090426
&
http://video.cnbc.com/gallery/?video=3000114536&play=1
Member JoshSquall says his company is usually hiring
Sharepoint Developers
in this thread:
http://forums.anandtech.com/showthread.php?t=2279115
Employment, Wages, and Prices


"Employment conditions were little changed since the last report. The Boston, Cleveland, Atlanta, Minneapolis, and Dallas Districts indicated that employment levels were flat or up slightly, with stagnant demand and uncertainty related to the upcoming presidential election, U.S. fiscal policy, and European debt issues cited by some as restraining hiring. The New York and Chicago Districts noted weaker labor market conditions, and conditions were described as mixed in Richmond. Firms in the St. Louis District reported an increase in hiring plans.

Several Districts continued to report that employers were having difficulty filling highly skilled positions. In response, a few Districts noted that firms were starting to increase training programs to meet their staffing needs.

Most Districts reported that wage pressures remained modest since the last report, though an increase in the cost of employee medical benefits was noted in Philadelphia, Cleveland, and Chicago.

To the extent that wage increases were observed, they were concentrated among highly skilled workers in information technology, health care, professional services, and some of the skilled trades, according to reports from the Chicago, Minneapolis, Kansas City, and San Francisco Districts.

Price pressures were said to be contained as most Districts reported that both finished goods and input prices were little changed since the last report. Higher prices were cited by some Districts for agricultural commodities and petroleum-based products, although low or declining natural gas prices were reported in the Atlanta, Kansas City, Dallas, and San Francisco Districts. Contacts in the Atlanta, Chicago, Kansas City, and Dallas Districts noted that drought conditions continued to result in higher feed prices. There were scattered reports of higher crop prices starting to show through to food prices at the consumer level. Atlanta reported an increase in corn and soybean prices, while Chicago and Kansas City reported that these prices declined somewhat. Slightly lower prices for some technology-related products were reported in the San Francisco District."

http://www.federalreserve.gov/moneta...book201210.htm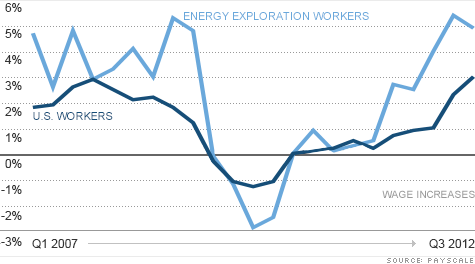 "Information technology workers averaged a 4.5% increase in pay over the past 12 months. In places like Seattle, "there has been an almost crazy demand for IT workers," said Bardaro. "
http://money.cnn.com/2012/10/11/pf/jobs/us-wages-oil-workers/index.html?source=yahoo_hosted
Bakken Shale in North Dakota
:
http://money.cnn.com/2011/09/28/pf/north_dakota_jobs/index.htm?iid=EL
Off-Shore Oil Rigs
:
http://news.yahoo.com/lonely-hard-oil-rigs-salaries-soaring-210944273--finance.html



Chesapeake Energy apparently doing some drilling around Canton, OH:
http://www.cnbc.com/id/49468542







Hot Single Family Home Construction Markets:


http://realestateconsulting.com/content/LBMI-201210






Odd Lot Jobs:
"The model is similar at all of the sites, though: Consumers are offered a variety of odd jobs for varying amounts. Among the current offerings: $35 to test the customer service experience at a national retailer, $4 to photograph a restaurant's menu or $29 to stand in line at a popular BBQ joint in Austin and deliver the food to an office."

http://finance.yahoo.com/news/tiny-job-earn-tiny-payment-133912848.html
"Many businesses — big and small — post micro-projects through a free iPhone app called Gigwalk (an Android version is in the works).

A national retailer or restaurant chain, for example, might need someone in your town to mystery shop or dine at a local outlet and evaluate the experience. An automaker may need to know what a new parking garage in your town charges so the data can be added to in-car navigation systems.

It's important for companies to get these micro-jobs done, but it makes no financial sense to assign them to full- or part-time employees.

Many

Gigwalk

jobs involve photographing businesses or product displays in stores. It's how Microsoft is gathering the thousands of panoramic photos it needs for its Bing search engine.

You don't necessarily need to invest in expensive camera gear — the iPhone's camera is good enough for most vendors. A few jobs might require DSLR-quality photos.

Once registered with Gigwalk, you're notified of tasks that come up in your city. You compete with other Gigwalkers and "apply" for gigs with a 140-character message.

As a newbie, you'll make $10 or less for many tasks. But as your reputation and positive feedback snowballs, you're shown increasingly lucrative jobs of $50 or more.

The money can really add up if you tackle several tasks a day.

Some companies invite experienced and reliable Gigwalkers to private teams, which is sort of like becoming a regular freelancer.

TaskRabbit

is another popular micro-job platform. Currently serving a dozen major cities in the U.S., TaskRabbit started out as a safe way for homeowners to get help with odd jobs like house cleaning, pet sitting and assembling Ikea furniture.

TaskRabbits must pass a screening process that includes a video interview and a thorough background check. Many TaskRabbits are college students, retirees and moms.

A lot of businesses owners have discovered that TaskRabbit is also a great way to find on-demand virtual assistants, event staff and delivery drivers. Bakery shops and other boutique retailers often need extra help to handle holiday orders. But they don't have the time or resources to find qualified temporary workers."

http://www.usatoday.com/story/tech/columnist/komando/2012/11/16/cash-smartphone-komando/1694555/
Extra Income for Teachers?:
-
http://finance.yahoo.com/news/teachers-money-selling-materials-online-090533341.html
Survey of Top 50 Global Companies to Work For (business and engineering):
-
http://www.universumglobal.com/stored-images/d1/d1ab7acf-1f7c-4cc0-9dba-edef590321a5.pdf
Colleges Help Students Scrub Online Footprints:
http://news.yahoo.com/colleges-help-students-scrub-online-footprints-184052483.html
Resume and Cover Letter Critiques:
-
http://finance.yahoo.com/news/why-arent-getting-job-interviews-145616570.html
Starting Salaries Rising for New Graduates:
-
http://money.cnn.com/2013/01/10/pf/college/graduate-salaries/index.html?source=yahoo_hosted
Stepping back and looking at where industries that might still be growing vs. those that are downsizing, things that come to mind are:
- with President Obama's re-election, some states that refused to prepare to implement
state health insurance exchanges
(I think an alpha or beta type test platform is supposed to be in place earlier next year or generic federal template is put in place) might be scrambling to hire to build that out now, and maybe something like
health insurance companies / HMOs / etc.
etc. might build out in anticipation of new customers
- some
tech companies
who had their growth levered to
Europe
might be pulling back or downsizing
-
defense industry
probably going to pull back even without budget sequestration as government probably going to gently try and eliminate some waste and excess profit
- and obviously
finance industry
has not been doing well for some time and probably continuing to shed jobs
-
oil and gas exploration (fracking)
is probably poised for explosive growth, and
construction
seems to be coming back slowly
So, if you have some career or geographic flexibility, probably good to think about
regions of country
and
specific industries
that will continue to grow, and which will stagnant or even significantly downsize going forward
edit:
Member Sactoking
(
http://forums.anandtech.com/showthread.php?t=2255509
) regarding state health insurance exchanges
:
"The situation isn't as dire as portrayed for the simple fact that those in the media haven't a single collective clue about what is going on.

Technically, states have to have a Declaration Letter and Blueprint submitted by Friday the 16th. The Letter will declare the state's intent to set up a state-based exchange, a regional exchange, a partnership exchange, or do nothing. The Blueprint will be a technical implementation outline of how the proposed exchange will function.

Submitting a Declaration Letter buy the 16th is no problem: "Dear Secretary Sebelius, the State of ___________ elects ____________. Sincerely, Governor _____________".

The Blueprint is the tricky part, and that's the part that a state will be scrambling to finish in time. I mean, how do you decide upon and write a procedure for implementing a 2000 page law (as amended) in 5 business days? But here's the trick:

you don't have to

.

You see, since HHS/CCIIO is either completely incompetent or is willfully withholding information at the order of the administration, there are no regulatory rules detailing the specific requirements for programs that need to be outlined in the Blueprint. Additionally, many states will require their own enabling legislation and not every legislature meets year-round, or even every year.

The result is that states have been instructed that if they want something other than a federal exchange they must submit a blueprint but that blueprint need not contain anything more than a general outline of the proposed exchange. It will be possible, for all intents and purposes, to submit a Blueprint that says: "Sec. 8a- Navigators: Yeah we intend to have them. Sec. 12q- Risk Adjustment: Umm, we will handle the risk adjustment program".

Given that, no exchange should be "scrambling"; the Blueprint submission process has been defined by HHS/CCIIO to be a joke and states may treat it as such."

http://forums.anandtech.com/showthread.php?t=2282146
Last edited: