Jun 1, 2017
4,618
7,076
136
You may be aware AnandTech posted a lot of articles about the AMD Financial Analyst Day 2020. A lot of details were discussion which I think deserve a dedicated thread.
I'll keep updating the OP while going through them.
Done
AMD no longer references 7nm+, so the connection to TSMC's N7+ is no longer a given.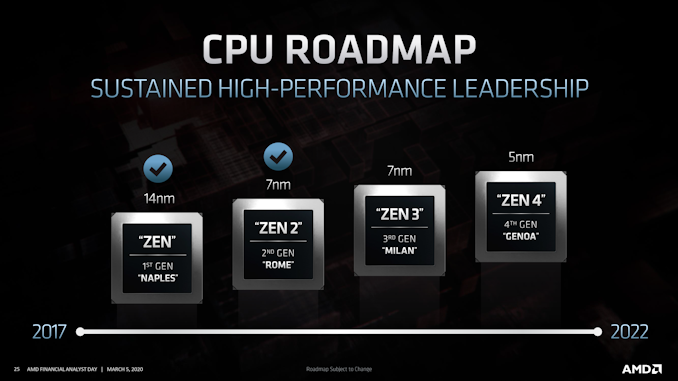 In place of the current Vega for computing in the server market CDNA will come as counterpart to RDNA for consumers.
To cover the increasing scope of Infinity Fabric it's being renamed to Infinity Architecture.
AMD teased X3D packaging as a successor to the current chiplets MCM packaging in an unspecified future.
AMD shipped 260 million Zen cores by 2020. Ian Cutress pixel counted the graph and came up with these numbers: 2017-2018: ~30m cores, 2018-2019: 80m cores (~110m total), 2019-2020: 150m cores (~260m total)
Note of caution: This is cores, not chips. So with up to 64 cores per chip this number looks more impressive than it would otherwise. For comparison, alone through sales of PS4 an Xbox One there are far more than 1.2 billion Jaguar cores in the wild. So we can expect the numbers of Zen cores to vastly increase further once the new Zen 2 based consoles launch later this year.
RDNA 2 is called Navi 2X, further improves perf per watt and includes hardware ray tracing.
Zen 3 based Milan coming in 'late 2020', Zen 4 based is coming out by 2022.So the cadence is more to the 15 months than 12 months side. Zen 3 will hit the consumer market 'later this year'.
Last edited: