Besides increased areal density here is what I think is fairly likely:
1. Lower RPM (comparing spec sheets on the
2.5" Barracuda
and
2.5" Barracuda Pro
) I estimate 4200 rpm would lower idle power from 450 mW to 300 mW and ~3300 rpm would be ~200 mW.
2. Helium to increase number of platters in 7mm thick drive from 2 to 3 while lowering active and idle power at any given RPM by ~20% (see mechanical savings in picture below as a reference point).
I also wonder if it could also reduce failures due to humidity if the disk controller is also enclosed in helium.
https://www.zdnet.com/article/heat-doesnt-kill-hard-drives-heres-what-does/
High relative humidity causes disk failures largely due to controller/adapter malfunction.
Disk controller/connectivity failures are greatest during high relative humidity.
High temperatures are not harmless, but are much less significant than other factors.
3. Multi-actuators. 1.) Even at low RPM sequential performance should be much better than any 7200 rpm single actuator 2.5" drive. 2.) Sequential performance per watt at the edge of the platters at 5400 rpm with three actuators (hypothetically in air, not helium) should be better than a typical SATA SSD based on the
2.5" Seagate Barracuda spec of 1.7 watt 140 MB/s read
vs.
129.8 MB/s Sequential read performance per watt of a Crucial MX500
. (reason: 3 actuators at 140 MB/s = 420 MB/s which at 1.7 watts* would be 247 MB/s per watt. 247 MB/s per watt is 90% better performance per watt than the MX500's 129.8 MB/s per watt)
EDIT
: 1TB MX500 Sequential Read performance per watt is better than the 500GB MX500 at 148.2 MB/s vs. 129.8 MB/s. Triple actuators (5400 rpm, air) at 247 MB/s Sequential Read/watt works out to have 67% better performance per watt than 1TB MX500.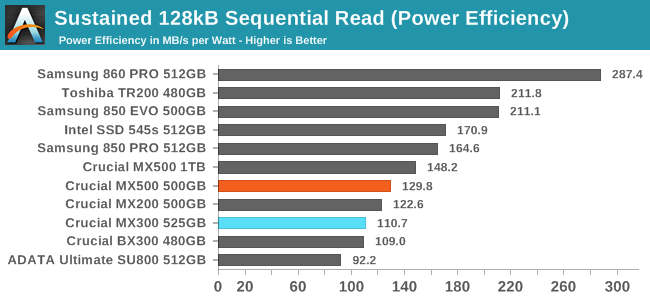 *This assuming the controller for a 3 actuator HDD doesn't use any more power than a single actuator controller. However, with that noted, even if the triple actuator controller did use more power I expect Helium to be used and the RPM of a triple actuator 2.5" HDD to be lower than 5400 rpm....both of which should separately increase performance per watt.
4. Larger NAND cache for SSHD versions.
Last edited: