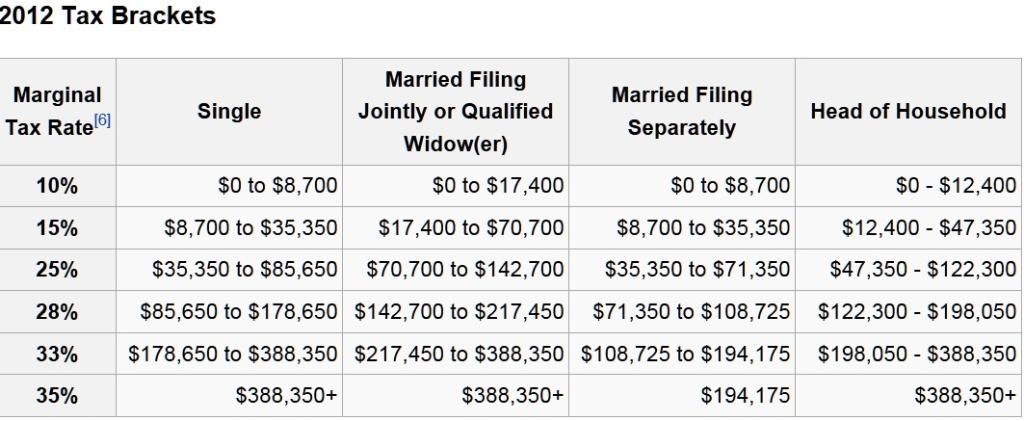 Pic taken from
http://en.wikipedia.org/wiki/Tax_bracket#2012_Tax_Brackets
So from the 66% jump (15% to 25%) brackets is what stands out to me. Bigtime. That's the largest jump between brackets and it lands squarely on middle class. The brackets above the 25% point pinch down to smaller increases so why are we locked into the current rate structure that doesn't appear to make any sense for the middle class. In the lower incomes we see the 66% rate increase, but in higher incomes we see down to a less than 10% rate increase between brackets? In a time when cost of living is going up up up, the big rate jump middle class is going to starve a lot of folks from available discretionary spending while the higher brackets are giving more discetionary spending money.
Other standout look is why does the brackets end at 388k? What's the hold up to adding another higher bracket for higher earners. Currently the folks above 388K get to enjoy the leverage of the vote from those earning between 388k and infinity. Why not put in a bracket at 500k or a million so that any hold up to those brackets being implemented or increased would not enjoy the backing of folks between 388k and 500k, or 388k and 1M? Looks like the very high earners get to enjoy a tax structure that ends at 388k and get the benefit of being catered to by a vote that may change if the tax inceases were leveied at 500k or 1M+ as opposed to 388k where certainly more people would be against it a rate increase.
I believe taxes need to be lowered across the board or remove double taxation and worse and fees that are crushing folks when they need to spend $$$ they've already been taxed on, but the lowereing would need to be 66% lower for the brackets in question and 10% or less lower for high income brackets otherwise or we would still shifting money to the top. The 20% across the board from Romney while in principle I agree with I think misses the method to deliver a promising result for the nation. Of course if you can deliver the tax break to the top, then how about shifting the tax brackets so it starts of slowly increasing and grows to faster increases at the top instead of rapidly increasing at low wages and flattening out at high wages?