Dec 7, 2011
3,186
249
106
So this was my first htpc build and I found it pretty easy. I've been building pc's for the last 10 years, but mainly for myself and friends/family members, so nothing professional or anything.
I started this project around black friday, initially purchasing the Foxconn Barebones R2-H2 system on newegg. I basically started from scratch with the exception of a spare blu ray drive I had decided not to use on my server. I pretty much suck at these narrative type things so I guess I'll dive in.
Components:
So I decided to go with an intel build due to the price of the barebone system. It's an h61 mobo, so I decided to throw in a g850. My main goal for this rig was to strictly play movies from the server. I got a Samsung 830 128gb SSD for the OS and any other programs I may be using, but storage was not part of the plan for this build. I also picked up 4gb of Gskill 1333 basic RAM, I figured I wouldn't be doing much else with this build. The bottom piece of hardware is the barebone system itself.
Build:
The first thing I did was installed the cpu. Fairly easy, but everyone knows how bad these intel HSFs suck, but I figured with this build & no plans to OC, it would suffice. The HSF should give you how much space I had to work with in this case. You can see RAM slots above the cpu and to the right just next to the psu is the PCI express slot.
After getting the RAM installed, I decided to then concentrate efforts in carefully removing the front panel. I was careful enough not to break anytabs when the panel came off. I slid in the optical drive with no problems, except for one: I couldn't find where to line up the screws. It's snug enough that I don't think it'll go anywhere, and I didn't really spend too much time looking because of the tightness of the slot.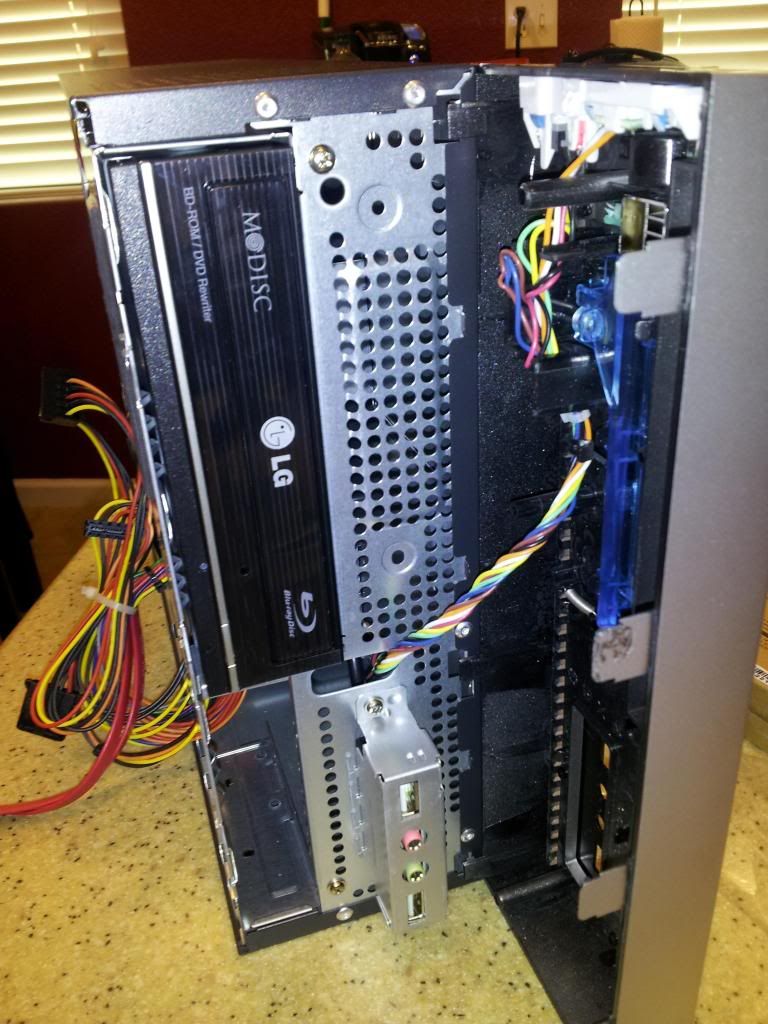 The optical drive bay door is swivel/spring loaded. I was a bit concerned because I read a few reviews saying some people had trouble lining the eject buttons up etc but I didn't really have this issue once it was in.
That was pretty much my last component to put in. Suffice to say it was pretty painless.
The pic just shows the rig actually on and at the time I started the w7 installation. I left the front panel loose because I didn't want to deal with the door while installing the media.
Finally, this is the htpc on my shelf:
Sorry about the pic quality, was in a bit of a rush to get out of the way because my wife was watching one of her shows. I posted another thread about possibly painting the silver trim to match my receiver, but I may actually hold off on that.
For my input device, you can kinda see it plugged in and on top of the unit, but here's a better pic:
It's a visiontek Candyboard. It was cheap, and tbh I didn't want to go all out on this build, this being my first. I was just looking for cheap and functional, and I'm pretty sure this unit will be going in the 2nd viewing room for when we have sleepovers for my son or daughter and for the kids to watch stuff in.
I decided to go with xbmc to handle my files. So far I'm pretty impressed with it. I'm using the Transparency skin and still learning about add-ons, artist packs and stuff, so I've got a lot of experimenting to do.
For now, here's how the unit's looking in my entertainment center Apoligize for the clutter):
Here's my home screen:
And this is just showing how the video library is displayed:
Anyways, that's my htpc de-virginizing build. I really enjoyed putting this little thing together. I like how it has a small footprint (my wife does too) and when I fired it up for some guests we had, they were pretty blown away. My wife is pretty stoked now that she can watch a few shows on some channels that aren't available from DirecTV on hulu etc.
I think for my next htpc build, which will include a spare i5 2400 I have, I'll go with something more in line with an AV receiver type case to better match my receiver. Overall, I'm pretty pleased with it so far. I haven't had any network issues, transferring a 4.5gb file from the server to the pc yielded about 109Mbps and took about 1-2 mins, so I don't think I'll have any problems pulling from the server.
I hope you guys enjoyed the post. Never posted anything this long before lol
EDIT: Forgot to post approx. how much I spent:
Barebone system (mobo, psu & case): $59.99
RAM: $19.99
SSD: $109.99 (if I remember right)
CPU: $84.99 if I remember right)
About $250. I'm sure I could've spent a good amount less and I already had w7. All in all, not too bad.
Last edited: