Dec 25, 2013
3,870
147
106
The Real Mystery of Intel's Monette Hill
Yesterday, Ashraf Eassa published an article,
The Mystery of Intel Corp.'s Monette Hill
, in which he mainly wondered about which process node this product would use. He suggests it could be the successor of Coffee Lake-S, but merely looking at the code name reveals that just has to be false: it isn't Monette Lake, or something.
However, there are a few interesting things about Monette Hill that does make it a mystery. In this article I'd like to summarize the real mystery of Monette Hill.
TL;DR
: Monette Hill is a new co-processor for "very enhanced image processing" for desktop platforms. It's very likely this IP is already used in the Google Visual Core, so I'd expect more announcements related to Raja's Visual Computing Group and Intel's strategy to deliver discrete graphics solutions shorty at CES!
How it Unfolded
Part 1
On October 4, Google announces its Pixel 2 phones.
On October 17, in a
blog post
, Google reveals that the Pixel 2 contains a custom "Google-designed (from scratch)" SoC for image processing, called the Google
Visual Core
. It contains an A53 and "
eight Google-designed custom cores
", with 512 ALUs in each IPU. It processes HDR+ images at a claimed 50x higher efficiency than Snapdragon's
Hexagon 680
ISP (in the S835 main SoC) (presumably, Google just says application processor), at 5x the performance and 10x lower power. It is also intended for machine learning workloads and can be programmed (Halide and TensorFlow with a Google-madecompiler). Its performance is 3 TOPS, but the foundry and process node were not disclosed.
On October 19, iFixit
publishes
its teardown of the Pixel 2. It contains the Visual Core with SR3HX X726C502 serial number.
On October 23, CNBC
reports
that "a Google spokesperson confirmed that the company
worked with Intel on the Pixel Visual Core
and noted that no existing chip had exactly what Google wanted for the new Pixel devices." However, Google did not give any details as to what each company did. The article suggests they contacted Google after seeing the similarities with Intel products' serial numbers starting with SR3: "The
serial number
on the chip in a photograph
begins with "SR3," like some Intel chips
." This suggests that the Visual Core is in fact an Intel chip. (Intel declined to comment.)
On October 25, Ars Technica releases its own
coverage
, based on the CNBC report like all articles, but adds a few of its own tidbits.
"Knowing that Intel helped with the development of the chip was enough information to start digging with, since anything touched by Intel is probably related to the camera chip, right? This led me to the codeword "
Easel
," which, sure enough, seems to be Google's codename for the Pixel Visual Core. You can poke around
platform/hardware/google/easel/
in the Android source, where you'll find the few bits of related code that are currently public. Opening up the
device-tree blob binary
present on the Pixel 2 also
prominently shows the word "Monette Hill,"
which sounds like some kind of Intel codename."
On November 8, Intel
announces
that Raja Koduri will join Intel in early December. Intel forms a new Core and Visual Computing Group. Intel says:
"In this position, Koduri will expand Intel's leading position in integrated graphics for the PC market with
high-end discrete graphics solutions
for a broad range of computing segments.
Billions of users today enjoy computing experiences powered by Intel's leading cores and visual computing IP. Going forward under Koduri's leadership, the company will
unify and expand differentiated IP across computing, graphics, media, imaging and machine intelligence capabilities
for the client and data center segments, artificial intelligence,
and emerging opportunities like edge computing
."
Part 2
Then, on December 5h, seemingly without knowing about the above information, Ashraf Eassa
tweets
: "So now that we know what Whiskey Lake is, anybody care to guess what Monette Hill is? Maybe CFL with 4/6/8 core options and the ICL PCH?" In a tweet below he also
says
(without specifying whether this refers to WHL or MNH) about his source: "This is really fresh stuff, somebody DM'd me a link to a Chinese forum post. Whiskey Lake was publicly listed on Intel's website, but the leak told us what it was."
In any case, Monette Hill
can now be viewed freely on Intel's site
, but I don't know since when exactly Monette Hill was available there. Monette Hill is described as "
Desktop Platform
Code Named Monette Hill".
The last piece of information (which I found out myself today) comes from the
LinkedIn profile of Mayank S
, who worked for HCL Technoolgies from October 2016 until May 2017 as Technical Lead:
"Worked in Pre And Post Silicon Validation For Following LSIO Peripherals."
* Hardware: Intel Chipsets
* Operating Systems: Bare Metal, Linux Kernel (4.0) + minimal Filesystem.
* IP: UART, I2C, SPI, Timers, Watchdog, DMA, GPIO And Perf Monitors.​
He describes the project he worked on as the Monette-Hill Co-processor (MNH): "Intel And HCL Collaborating For
New Coprocessor
With Enhanced Image Processing. The
main aim for this co-processor is to provide very enhanced image processing
. As per pre/post-silicon validation, my task is to validate all LSIO Peripherals (Uart, GPIO, SPIM, I2C, DMA, Timer, Watchdog and Perf Monitors)."
The Mystery
So we have two separate pieces of information here that are, somehow, linked together.
On the one hand, we have Google describing how it designed the Visual Core co-processor with a "Google-designed" IPU, 8 total for 3 TOPS in a mobile power envelope, but later admitting that they "
worked with Intel on the Pixel Visual Core"
.
Separately, we know that Monette Hill is an Intel desktop platform, more specifically a desktop co-processor for "very enhanced image processing". This sounds exactly the same as the Visual Core's capability.
Linking this together, Ars Technica has dug up the Monette Hill code name in the "device-tree blob binary present on the Pixel 2".
Hypotheses

Naturally, given the Monette Hill co-processor Intel is planning and the Intel serial number, one would conclude that the Visual Core is in fact Intel-designed and built by Intel on one of their process nodes, respectively.
Going against this, however, is that Google referred to the IPU as "Google-designed", but only later -- after being asked about it -- admitted that Intel helped them. So the other possibility is that the relationship with Intel is that Google is an ICF customer, but that does not explain the Monette Hill code name that Ars Technica found. Or maybe Google simply wants to get all the credits themselves.
A last option I can think of is that Intel provided the IPU IP, which they are going to use in Monette Hill, and Google developed the SoC on a TSMC process node, with the 8-core configuration and mobile power envelope optimized for its use case in the Pixel instead of as a desktop product.
Conclusion: To be continued
I do not know what to make of all is, that's why it is a mystery!
However, from my experience with leaks and rumors, I'd say that the most naieve interpretation is often the best. The Monette Hill code name that has ended up on the Pixel 2 to me seems the most important information. This means the Monette Hill IP is in the Visual Core SoC. And given that we know from the Monette Hill LinkedIn leak that it's a co-processor for image processing, this can only imply that the IPU is in fact the Monette Hill IP, which too can only mean the IPU is Intel-designed (I'd be very surprised if Intel got any help in developing its Monette Hill product, which is clearly intended for Intel's own products, and must have been in development for quite some time given the post-silicon validation probably started in October 2016).
So Google took this Intel IPU IP and built its Visual Core SoC around it, possibly manufactured at TSMC, but Intel could be possible too, in my opinion.
Given that Monette Hill IP is already out in the wild, I would watch out for any Intel announcements related to graphics from Intel at CES shortly!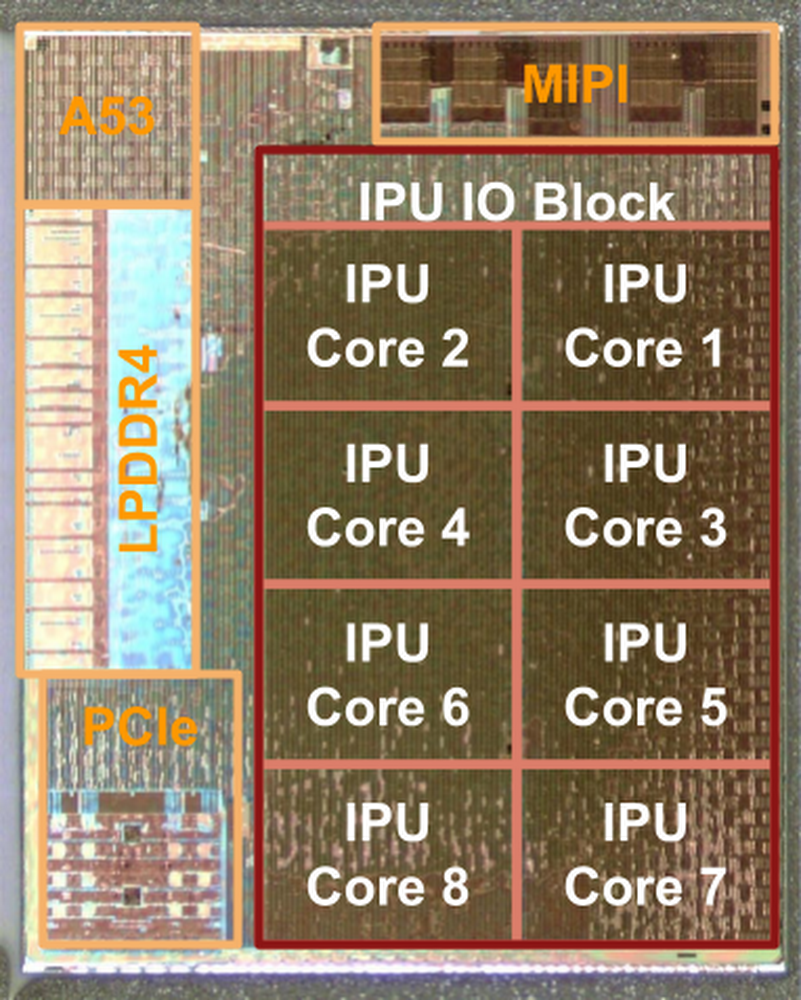 Last edited: