AnandTech said:

In addition to showing Baytrail running on a Windows 8.x platform, Intel showed us a "pre-beta" version of the platform running Android 4.2.2. I have to emphasize that the build they showed us definitely seemed pre-beta, as there was some instability, but overall the build was good enough to run some tests on and get a feel for. Intel made it clear that they do have a lot more work to do on their Android build before it's considered close to final quality than the Windows equivalent.
http://www.anandtech.com/show/7314/intel-baytrail-preview-intel-atom-z3770-tested/3
vs Tablets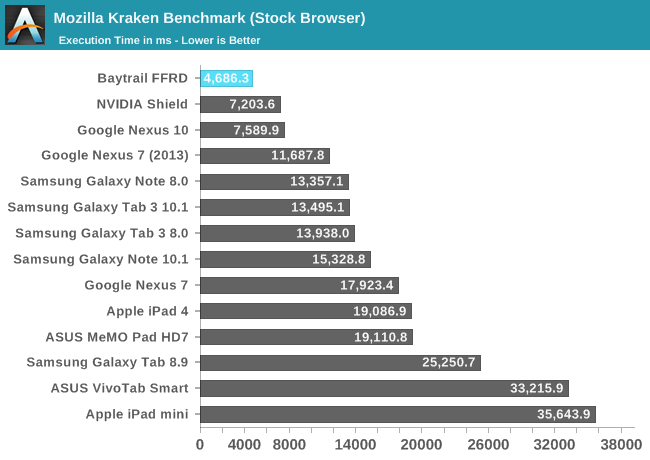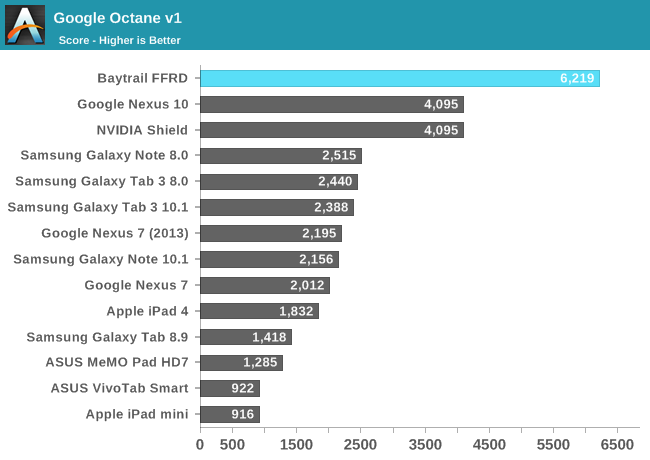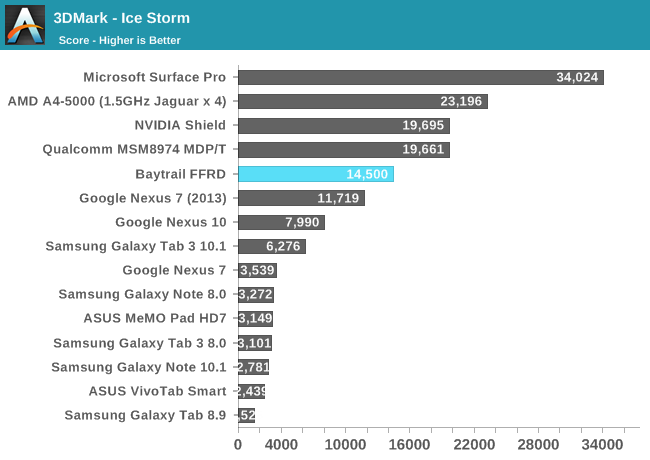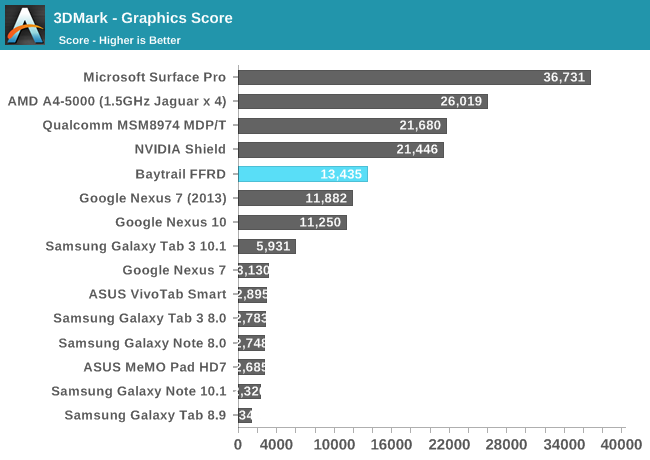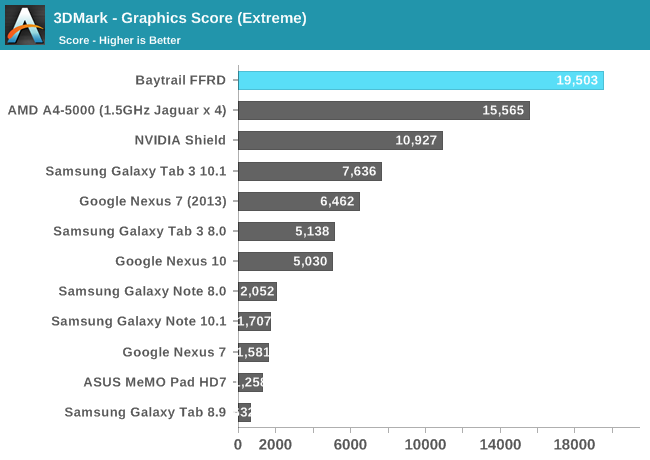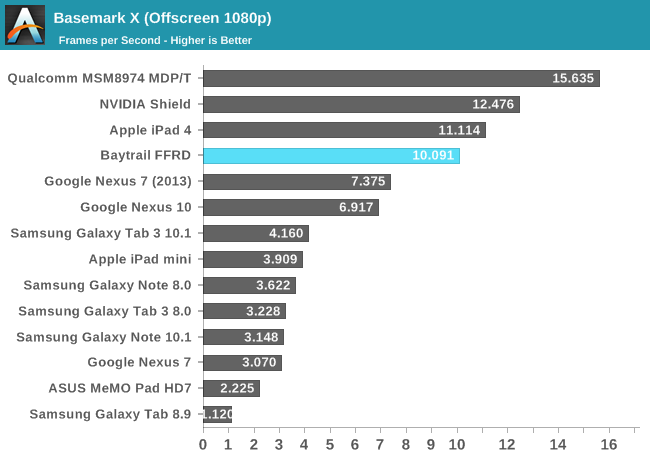 vs PCs
Better CPU performance than 15W TDP AMD A4-5000, average power comsumption of 0.8-1.2W running CB11.5
AnandTech said:

The single threaded performance numbers are just barely ahead of AMD's Jaguar based Kabini SoC. The big difference however is power. I had Intel measure SoC power at the board level while running a single threaded Cinebench 11.5 run on the Atom Z3770 and saw a range of 800mW - 1.2W. AMD on the other hand lists the A4-5000's SoC/APU idle power as 770mW. I don't have equivalent data for AMD, but with the A4-5000 idling at 770mW, it's safe to say that SoC level power consumption is lower on Baytrail.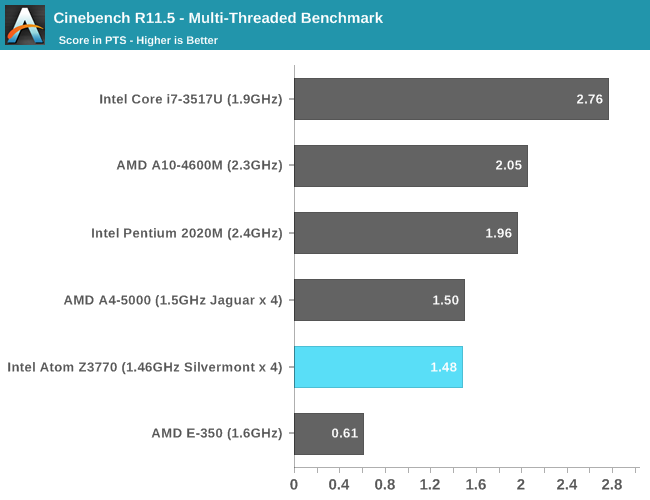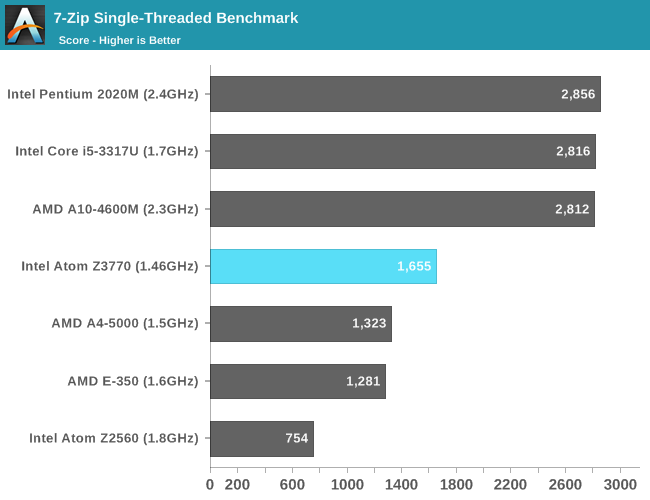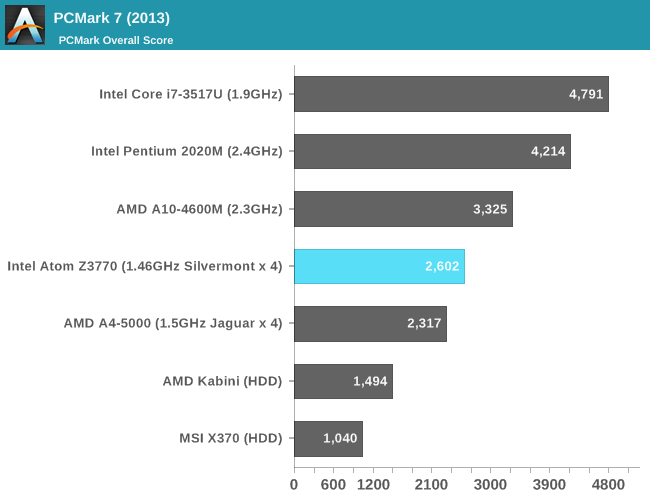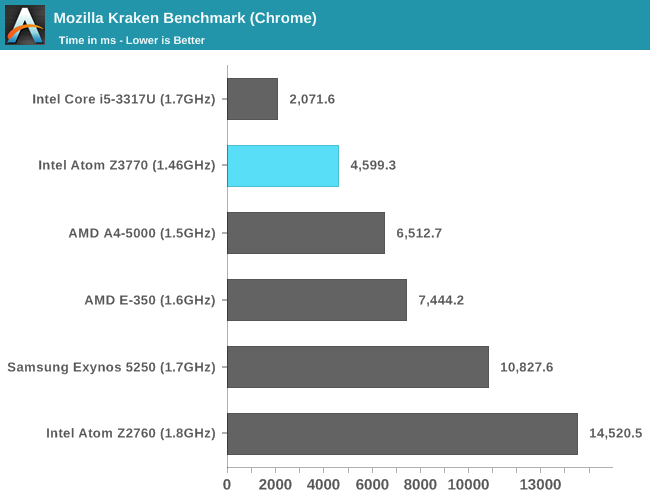 AnandTech said:

At its Silvermont disclosure, Intel promised performance better than any other ARM based core in the market today. Looking at our Android results, Intel appears to have delivered on that claim. Whether we're talking about Cortex A15 in NVIDIA's Shield or Qualcomm's Krait 400, Silvermont is quicker. It seems safe to say that Intel will have the fastest CPU performance out of any Android tablet platform once Bay Trail ships later this year.

The power consumption, at least on the CPU side, also looks very good. From our SoC measurements it looks like Bay Trail's power consumption under heavy CPU load ranges from 1W - 2.5W, putting it on par with other mobile SoCs that we've done power measurements on.
Last edited: