remember our friend who posted these vile posters all over NY subways? here let me refresh your mammaries:
http://forums.anandtech.com/showthread.php?t=2271786
apparently she is at it again. i feel sorry that our NY residents have to put up with this crap.
Anti-Islam Subway Ads By Pamela Geller Feature Exploding World Trade Center, Quote From The Quran
http://www.huffingtonpost.com/2012/12/13/anti-islam-subway-ads-pamela-geller-mta-disclaimer_n_2295864.html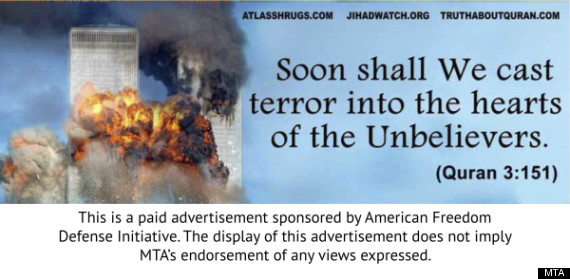 http://fromthetrenchesworldreport.com/pamela-gellers-new-subway-ads/28152/
Imagine how millions of peace-loving Christians would react if they saw a subway advertisement during their morning commute showing cherry-picked Bible quotes such as "I come not to bring peace, but a sword" (Matthew 10:34) or "I have come to cast fire upon the earth; and how I wish it were already kindled" (Luke 12:49-51), trying to wrongfully portray Christianity as a religion of violence. I think it would be fair to say that most fair-minded Americans would be able to see right through the sinister veneer of these blatantly ridiculous advertisements. Now imagine that we are talking about Islam instead of Christianity.