Hello,
My company is building a 64 core Threadripper Pro (3995WX (or 5995WX if our system builder can get the CPU on launch day)), and I was curious what air CPU heatsink you would all recommend?
The case for the system will be the following Supermicro chassis :
https://www.supermicro.com/en/products/chassis/4U/747/SC747BTQ-R2K04B
...which includes optional rack rails, and will be oriented horizontally (in a rackmount configuration + plus I'll be adding an additional Supermicro rear fan kit (
https://store.supermicro.com/mcp-320-00046-0n-kit.html
) for additional air cooling).
Unfortunately, the system will be running 24/7 and in a lab for many years with extremely expensive hardware, so a water cooling setup is not allowed, as a leak would result in $100,000 to $200,000 of damage (plus we all work remotely - and no one wants to be responsible for having to drain a custom loop).
I've seen some system builders (like Puget Systems):
Puget Systems provides part information, advice, and tech specs for all of the computer hardware we use to configure our workstation PCs
www.pugetsystems.com
...recommend the Supermicro SNK-P0064AP4 (which lists a supported TDP of 280W):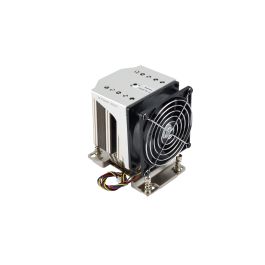 4U Active CPU Heat Sink AMD EPYC™ 7000 and 7002 Series Processors Socket OLGA4094 (Socket SP3) Supermicro Certified

store.supermicro.com
...which is perfect (given that it fits in a 4U case, and was qualified by Supermicro to work), but when I actually asked Supermicro themselves, they recommended the following heatsink: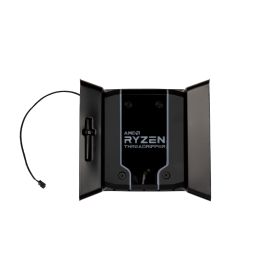 4U Active CPU Heat Sink AMD Threadripper Pro 3000WX Series Processor Socket sWRX8/SP3 Supermicro Certified

store.supermicro.com
...which lists a supported TDP of 80W (plus the picture is of a CoolerMaster CPU heatsink).
Note:
After speaking to a Supermicro representative, they stated that the SNK-P0066AP4 is indeed the CoolerMaster Wraith Ripper (which I'm certain won't be able to handle a 64 core 280W CPU running 24x7 very well). Also, they stated that the listed socket and TDP were wrong on their site (which is pretty concerning coming from Supermicro).
For now I think the 280W SNK-P0064AP4 is my best option (as a larger Noctua won't fit in the 4U case), but just wanted to check with someone else if they had a recommendation.
I also recently found the following 300W SP3 cooler Freezer 4U SP3:
Newly available in our ARCTIC Store | Compact 4U Server Cooler | Only in our ARCTIC Store | Free delivery in DE | Fast processing and shipping
www.arctic.de
…which might fight in a 4U chassis (as some 4U chassis have a motherboard tray that causes the Freezer 4U SP3 not to fit - I personally don't know if the Supermicro chassis has a motherboard tray, so I'm not certain if it will fit).
Furthermore, there's nothing as far as real review data of the Freezer 4U SP3 (other than a single youtube video - where the presenter was unable to fit the Freezer 4U SP3 in his 4U chassis (with a motherboard tray)).
Any help would be greatly appreciated.
Thank you,
Nelson
Last edited: