Mar 11, 2000
23,250
729
126
http://www.macrumors.com/2015/09/22/iphone6s-live-photos-file-details/
Because of the way Live Photos work, combining a MOV file with a JPG file, the full Live Photo experience will only be viewable on iOS devices that run iOS 9, the Apple Watch with watchOS 2, and Macs running OS X El Capitan. Sending a Live Photo by email or directly to non-supported devices, the Live Photo will be stripped of the MOV component and sent as a regular JPG.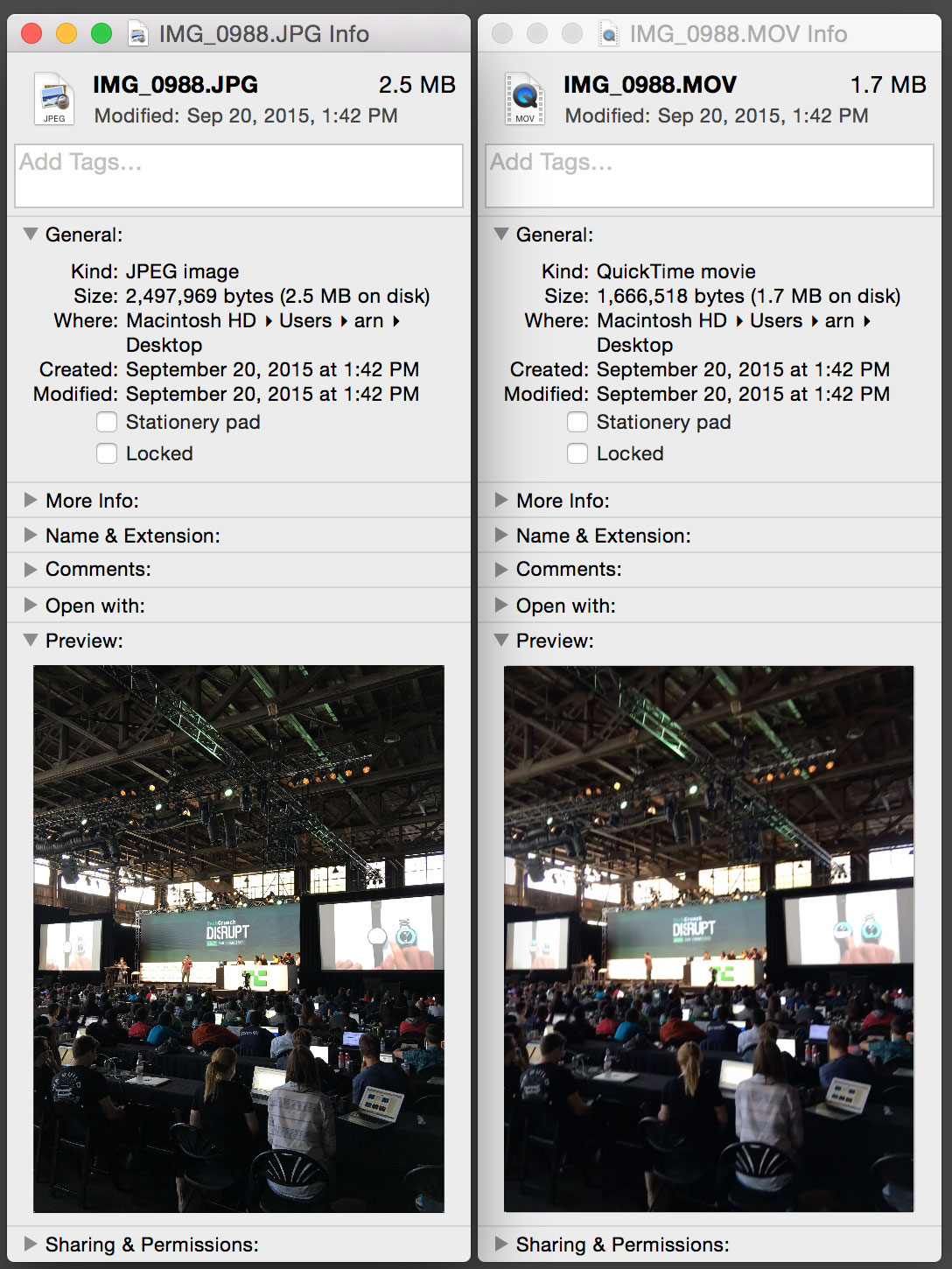 However, when importing Live Photos to your Mac in Yosemite's Photos app, they're imported as a separate JPG and MOV file. When TechCrunch's Matthew Panzarino sent a Live Photo to our iPhone 6 running iOS 9, the Live Photo was viewable (with motion) in iOS 9. When imported into Yosemite's Photos, the image was split into the JPG and MOV components. Importing into Photos on OS X El Capitan generates a single photo in the library, and double clicking it plays the video portion of the Live Photo.
---
The videos are 4:3 960x720, which is a little bit disappointing actually. We had heard comments that they were based on JPG, which obviously they aren't (which makes sense given the limited storage used). I guess the Live Photos are JPG, but the actual videos are not. I still don't know the actual video format, but assuming they're just H.264 I would have hoped for say 4:3 1440x1080. Actually, I'd prefer H.265 1440x1080, but that would cause problems with older iOS 9 compatible devices.
I guess I'll be updating to El Capitan sooner rather than later, to maintain Mac compatibility with Live Photos. I'll have to check out the VPN compatibility soon, as that's the only thing that's holding me back from updating on my MacBook Pro and my iMac.
Also, I hope Live Photos survives iMessaging. It would make sense that they would not work as texts, but it would be a shame if iMessaging didn't maintain the integrity of Live Photos. I wonder if iMessage knows what OS the recipient is on. I would assume so, but I'm not sure. All of our iOS devices in active use are currently on iOS 9.1 beta, so that's OK, and my wife's iPhone 6s will be too. The problem is that we have iMessage active with some Macs too, and those are still Yosemite.
---
EDIT: It's now up to 29.97 fps (iOS 10.2), and 1080p. See my post here:
https://forums.anandtech.com/threads/live-photos-format-jpg-mixed-with-960x720-mov-at-12-15-fps-now-up-to-29-97-fps-at-1440x1080.2448989/page-3#post-38805342
---
EDIT: As of June 2017, my prayers have been answered. They are now 1440x1080 HEVC on certain devices, albeit paired with HEIC images now instead of JPEG. There is also the option of leaving it has 1440x1080 h.264 with JPEG though.
This came nearly 2 years after I first posted this message, but better late than never!
Last edited: