Sorry for the thread title but I'm just trying to give the thread a glimmer of hope. I think if the title said Titan Z anything people would have clicked just to hate.
Been running her for a couple hours.
Got a good deal on it from a forum member. Thanks Doug!!!
So far running the card at about 1100 MHz (1058-1137) depending on where I am in relation to the power limit, which is easy to reach even at 120% and stock voltage.
I can keep the card fairly quiet ( I have headphone =P) and maintain low 80's on the cores.
3440x 1440
Metro LL
stock- 60 fps
OC - 71 fps
Good jump if you ask me! Haven't touched the memory but I don't see much point since I am already throttling due to power constraints. I will try just to see what it can do.
I will run more benchies later.
One of the real benefits of running a card like this with a ton of power of tap is a frame limiter. Running with one keeps the card cool and quiet while using way less power until all that muscle is needed and seamlessly scales up the clock speed giving more grunt. The fan never spins up loud with the limiter on.
I will say that with the overclock the card is a beast and it likely more potent than my 295X2. Maybe I will get around to doing a couple comparison runs, who knows.
This is my desk.
The monitors are
LG 34um95
Dell U3014
LG L1953TX
Dell 2005 Fpw It's out of the pic to the right
The rigs in the pic are
Corsair 540 Air (Win 8.1)
4790K @ 4.8 Silver Arrow SB-E
Titan Z
Lian Li test bench (Win 7)
Q6600 @ 3.6 under a TRUE
GTX 295
8800 Ultra PhysX
Antec 900 (Win XP)
FX-60 @3.0 Zalman CNPS 9700
X1900 XTX and X1900 Crossfire edition
Cooler Master Centurion (win XP)
A64 3700 @2.7 Volcano 12
X800 XT PE
Thermaltake Soprano (win XP)
A64 3800X2 @ 2.6
6800 Ultra 512
I pop different cards in them all the time.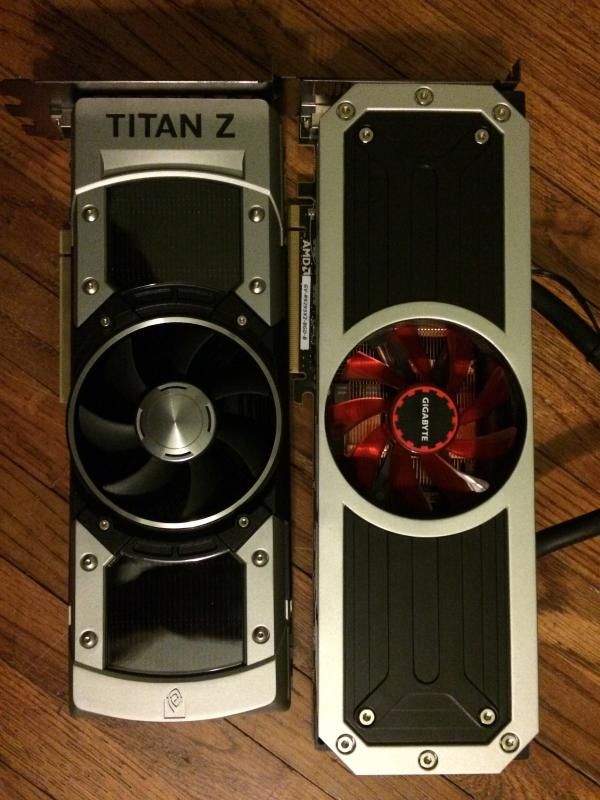 Z and X2
Last edited: