AnandTech - Imagination Announces B-Series GPU IP: Scaling up with Multi-GPU
The most importantly, this new multi-GPU system that Imagination introduces is completely transparent to the higher-level APIs as well as software workloads, which means that a system running a multi-GPU configuration just sees one single large GPU from a software perspective. This is a big contrast to current discrete multi-GPU implementations, and why Imagination's multi-GPU technology is a lot more interesting...

The most interesting aspect of the multi-GPU approach is found in the BXE series, which is Imagination's smallest GPU IP that purely focuses on getting to the best possible area efficiency. Whilst the BXT and BXM series GPUs until now are delivered as "primary" cores, the BXE is being offered in the form of both a primary as well as a secondary GPU implementation. The differences here is that the secondary variant of the IP lacks a firmware processor as well as a geometry processing, instead fully relying on the primary GPU's geometry throughput. Imagination says that this configuration would be able to offer quite high compute and fillrate capabilities in extremely minuscule area usage...

...Imagination's current highest-end hardware implementation in the BXT series is the BXT 32-1024, and putting four of these together creates an MC4 GPU. In a high-performance implementation reaching up to 1.5GHz clock speeds, this configuration would offer up to 6TFLOPs of FP32 computing power.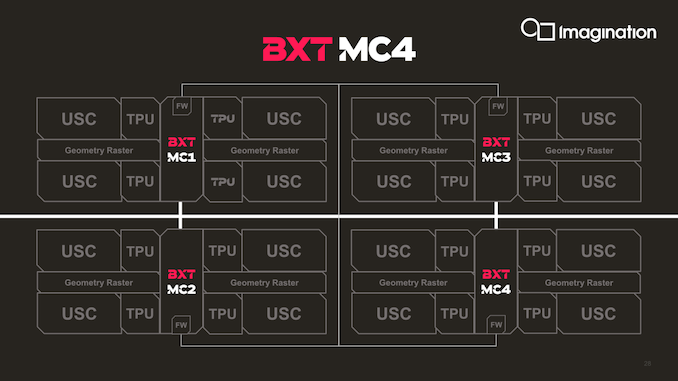 This seems to be very interesting twist in GPU development... waiting eagerly for AMD's/NVIDIA's MCM GPU implementations
//Updated - Thx to @NTMBK
First B-Series architecture/IP will be implemented in Fantasy series GPUs by Chinese manufacturer Innosilicon
The Innosilicon's "Fantasy" series, soon globally available, powers the 5G infrastructure deployment with high performance, high security, and high reliability. Its built-in physically unclonable iUnique Security PUF information security encryption technology that improves data security and anti-attack ability, along with a series of global leading technologies like 16Gbps GDDR6 high-speed video memory, HDMI2.1 8K display and Cache-consistent Innolink Chiplet, will make their debut in the Fantasy GPU.

"Fantasy" GPU series, featuring floating point and intelligent 3D graphics processing, fully customized multi-level pipeline computing core, together with high-performance rendering and intelligent AI computing, can be interconnected with multiple chips for processing and flexibility enhancement. As a result, it is ideally suited for the 1080P/4K/8K high quality display for desktop applications, supporting VR/AR/AI, multi-server cloud desktop, cloud games, cloud office and other big data graphics application scenarios in the 5G era.
Last edited: