Apr 14, 2001
55,281
12,009
146
Feel the GOP outrage. FEEL IT!
First, facts: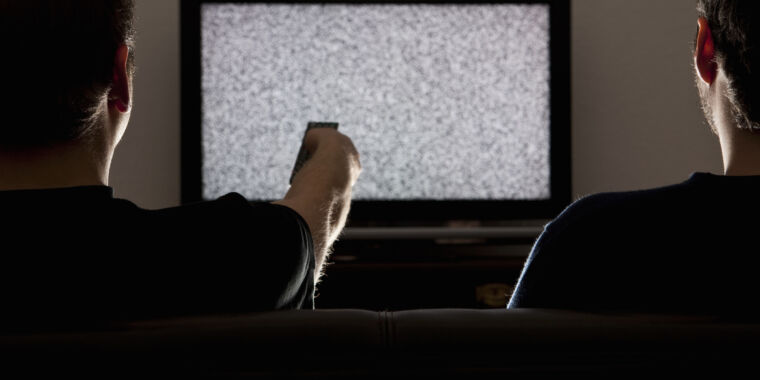 DirecTV says Newsmax ratings aren't high enough to justify network's rate demand.

arstechnica.com
"On multiple occasions, we made it clear to Newsmax that we wanted to continue to offer the network, but ultimately Newsmax's demands for rate increases would have led to significantly higher costs that we would have to pass on to our broad customer base," DirecTV said in a statement provided to Ars. (AT&T owns 70 percent of DirecTV.)
Rep. Wesley Hunt (R-Texas) and 41 other Republican members of Congress last week sent a letter to the CEOs of AT&T and DirecTV claiming that DirecTV appears to be "actively working to limit conservative viewpoints on its system." The letter suggested the Newsmax decision is part of what Republicans called an "un-democratic assault on free speech" orchestrated by congressional Democrats and the White House in coordination with private companies.
The Republicans' letter asked DirecTV to provide information on viewership ratings of Newsmax and liberal news channels and details on "the corresponding fees paid by your company to these networks."
DirecTV responded to the lawmakers with a letter on Monday. DirecTV said Nielsen data shows that "Newsmax's average household audience is only 101,000 households [nationwide], representing less than 0.1 percent of total TV households. That is 92 percent lower than Fox News. If Newsmax ceases to authorize our carriage of their channel, our customers will still have access to their clearly preferred conservative news channel, Fox News, which has more viewers than MSNBC, CNN and Newsmax combined."
DirecTV also said that Newsmax is "distributed online on popular streaming platforms for no charge, including to viewers who do not have a Pay TV subscription."
"Newsmax proposes to change this model," DirecTV told Republicans. "In effect, it has stated that if DirecTV and other Pay TV operators will pay it the fees it wants, then it will cease transmitting its current channel to the 55 million US households that don't have a Pay TV service. In other words, 55 million US households would no longer be able to access Newsmax in its current form unless they acquire a Pay TV subscription. Under this change in model, who's doing the de-platforming? Certainly not DirecTV."
The Newsmax article accusing DirecTV of censorship seems to confirm that, until recently, no TV service providers had agreed to pay for the channel.
Now feel the rage!!! FEEL IT!!!
https://twitter.com/stinchfield1776/status/1618299730882342915
https://twitter.com/ACTBrigitte/status/1618325866727215104
https://twitter.com/ProudElephantUS/status/1618262547831865345
https://twitter.com/NEWSMAX/status/1618287600749641734
https://twitter.com/TomFitton/status/1618048148483768320
https://twitter.com/JackPosobiec/status/1618013158458920961
Last edited: