One of the best AMD-based laptops we've ever seen.
www.tomshardware.com
On the

Shadow of the Tomb Raider

benchmark (highest, 1920 x 1080), the Zephyrus ran at 49 fps, tying it with both the Acer Predator Triton 500 (i7-8750H, RTX 2060) and Dell G7 15 (i7-9750H, RTX 2060).

Asus' laptop ran

Hitman

(ultra, 1920 x 1080) at 89 fps, two frames ahead of the Predator and one frame ahead of the Dell.

The Zephyrus outperformed on

Grand Theft Auto V

's benchmark (very high, 1920 x 1080) at 115 fps, losing by two frames to the Dell but easily beating the Predator with 87 fps.

We also ran our gaming stress test, in which we ran

Metro Exodus

15 times on a loop to simulate half an hour of gaming. In this case, we ran the game at the ultra preset at 1080p. The game ran at an average of 40.5 fps, and with RTX on it dropped to 37.8 fps. The average CPU

clock speed

was 3.1 GHz, and it had an average temperature of 78.4 degrees Celsius (173.1 degrees Fahrenheit). The GPU ran at an average of 425.1 MHz and a temperature of 64.8 degrees Celsius (148.6 degrees Fahrenheit).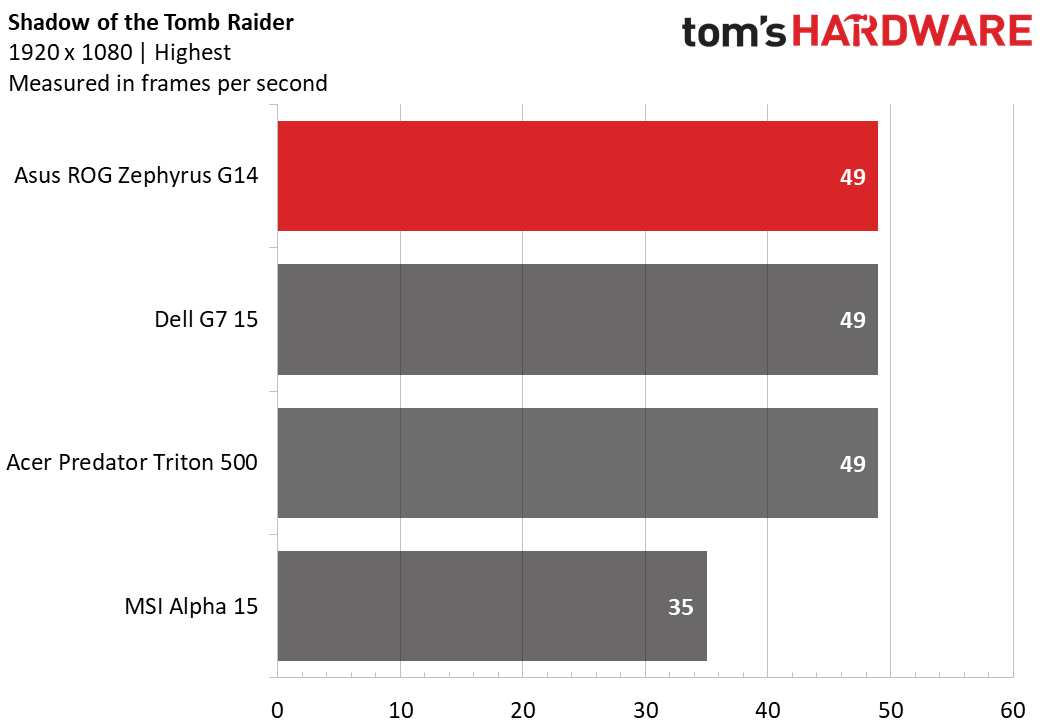 It's truly incredible how long the Zephyrus lasted on our battery test. Generally, only the best ultraportables last between eight and 10 hours on our test, which continuously browses the web, streams video and runs OpenGL tests, all while connected to Wi-Fi with the display at 150 nits brightness.

The Zephyrus endured for 11 hours and 32 minutes. That's incredible for a gaming notebook and even for some ultrabooks. The premium gaming average is just under 4 hours. This means the Zephyrus is suitable to use as your everyday system in addition to being your gaming machine.

For comparison, the Acer Predator Triton 500, with an i7-8750H and RTX 2060, ran for 4:24 and the Dell G7 15, with an i7-9750H and RTX 2060, died after 3:12. The Razer Blade Stealth 13, with a 25W Ice Lake processor ( i7-1065G7) lasted 8:53. The Dell XPS 13, with a 6-core/12-thread i7-10710U Comet Lake CPU ran for 7:56, albeit with a more taxing 4K display.

And while it's not quite the best comparison, the MSI Alpha 15, a budget all-AMD gaming laptop with an AMD Ryzen 7 3750H and a Radeon RX 5500M graphics lasted only 3:53.