Got the 6900k in today and refilled my loop. The first thing that jumped out at me is how much cooler this one runs, and not by a little; we are talking about ~25°C. Prime 95 AVX blend test puts my cores at ~58°C at 4.112GHz 1.26v (So far it's stable). The other chip was doing ~70°C stock and mid-high 80s @ 4.2GHz 1.275v.
Now I know what you are probably thinking, surely application of thermal compound or mounting pressure is to blame?
Well, maybe; but unlikely. When I first built my loop consisting of an EK Supremacy block with a total of 6x120mm in radiator area I was very disappointed with thermal results for the CPU, so I seated the block cleanly with fresh compound... Twice.
Second thing I've noticed, my intermittent cold boot issues are gone completely. I initially suspected the board\bios and attributed these small issues to being on the bleeding edge while assuming they would be corrected in a future BIOS update.
Does this mean I had a dud chip? Honestly I don't know, maybe it was fine stock but crap when run out of spec.
Intel is shipping me a replacement for the 6850k, so now I'm debating whether to sell it or rebuild my aging Thuban based server...
Also, here are some older photos of my current setup for the curious; it was my first custom water loop so a couple of bends are off but not very noticeable. I'll redo them in the future when I next change my fluid.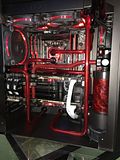 Last edited: