Oct 19, 2001
7,889
203
106
The VRM temps on my Zenith II are getting over 60C which causes the heatsink fans to spin up and down constantly. Being that it's a water cooled case, the top mount radiator sits in front of the VRM heatsink so there isn't anything externally moving air.
How are folks handling VRM cooling on these sTRX4 and Intel X299 with high heat output? I'm thinking a monoblock may be the best option over shoe horning some type of lower rpm fan.
This one looks interesting. My biggest dread is ripping it all apart to get the block installed.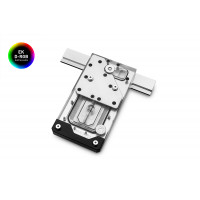 EK-Quantum Momentum ROG Zenith II Extreme is the 2nd generation of all-in-one monoblock (CPU and motherboard) liquid cooling solutions tailor-made for AMD® Ryzen™ Threadripper™ processors. The primary goal in designing the new sTRX4 socket EK-Quantum Momentum monoblock was to cover the entire...

www.ekwb.com
Last edited: