Wanted to share some new test screens from an old-stock pull Samsung OEM M.2 TLC SATA SSD with the "Slow Bug". It is about to go into a project.
The five year old data has become unbelievably slow. Looking on the bright side, the blank parts of the drive are still fairly fast.
BTW, I have been using half a dozen of these drives for years. When they start to slow down, maybe once or twice a year, I will run a utility called DiskFresh which rewrites all of the data and restores full speed operation.
Samsung M.2 TLC PM851. 256G M.2 SSD SATA drive, 26 power on hours, 39 GB used 188 GB free (237GB capacity). Drive date code 1441.
Windows folder created 7/10/2015. No data written since 3/3/2016, and almost all files are from 2015.
Came out of a Lenovo Yoga 3 Pro upgraded to Windows 10 (file version 10.0.10240.16384). I also have HP and Dell versions of this drive.
HD Tune 2.55 read-only Benchmark settings: 64K blocks and one step below most Accurate.
Samsung 840 EVO was patched. OEM versions of this drive were not well supported.
An avalanche of reports started to surface last September when users began to notice that their usually speedy Samsung SSD 840 and SSD 840 EVO drives were...

www.techspot.com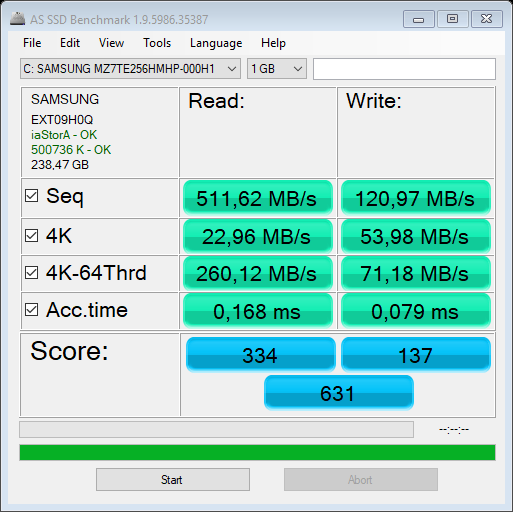 Dear support, I own desktop 860-002nc, P/N P4S57EA#BCM with originally installed SSD SAMSUNG MZ7TE256HMHP-000H1 (known as PM851). Used type of MLC/HW (same as used in EVO 840) has known performance issues. I struggle to get decent write speeds at the moment (it vary from 120 to 240MB/S at the...
h30434.www3.hp.com
Fixes an issue that affects Surface Pro 3 SSD disks.
support.microsoft.com
https://www.reddit.com/r/Surface/comments/2umtp9