Jun 16, 2008
8,471
423
126
Romney should avoid tanning himself like Representative Boehner
http://www.huffingtonpost.com/2012/09/20/mitt-romney-orange-bronzer-univision-face_n_1900387.html?utm_hp_ref=style
Romney was in Miami (speaking at our alma mater) for a

meet-the-presidential-candidate forum

where he

spoke about immigration issues

and tried to do

even more damage control for his "47%" remarks.

But as Mitt talked, we grew increasingly distracted by the citrus-y brightness of the candidate's skin, which seemed to be approaching

Tanning Mom

levels of bronzitude.

We even tweeted about it to see if anyone else had noticed, and we got tons of responses: "Will Romney put on blackface to talk to African Americans and Warpaint for Native Americans?"

one person wondered

. "Is the same person in charge of speech writing, chair dialogue, messaging & specifics (that don't exist) also doing makeup?"

another asked.

One user said wryly, "He's hanging around Donald Trump entirely too much!!"

And there's more evidence: looking at photos from a campaign rally earlier that day, also in Miami, we eyed Romney's profile and detected a "foundation line" where it looked like Mitt was definitely layered in a thick slab of orange-y makeup.

Gawker referenced Democratic Underground's pondering if Mitt is "dyeing his face brown"

as part of a campaign conspiracy to make him appeal more to Latino voters. That's quite a claim, but we know one thing for sure: Mitt should probably stop taking complexion tips from

John Boehner.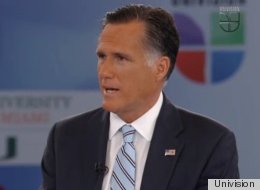 it was worth a chuckle.