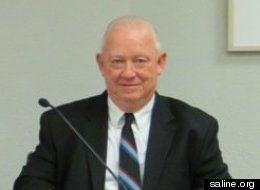 A Republican county commissioner in rural Kansas is resisting calls for his resignation after a comment he made during a public meeting last week.

Saline County Commissioner Jim Gile (R) used the term "n****r-rigging" during a commission discussion April 2 about hiring an architect to work on a county building, the Salina Journal reported on Saturday. Gile apologized for the comments, but residents called for his resignation during a commission meeting Tuesday afternoon.
The Salina Journal reported:

In a recording made by County Clerk Don Merriman of the study session, Gile, who is white, can be heard to say the county needed to hire an architect to design the improvements rather than "n****r-rigging it."
His comment brought laughter from others in the room. Salinan Ray Hruska, who attends most commission meetings and study sessions, asked Gile what he said.

"Afro-Americanized," Gile replied.

"He's like that congressman from Alaska," Commission Chairman Randy Duncan can be heard to say of Gile's comment. (the one that thinks Latinos are called "Wetbacks"
Gile told the Salina Journal that he knew the term he used from when he was growing up and that he meant to say "jury-rigged." He also insisted that he is not racist, noting that a friend he considers a sister is black.

"I am not a prejudiced person," Gile told the Salina Journal. "I have built Habitat homes for colored people."
This is a classic excuse....and how do you confuse N****r-rigged with jury-rigged?
He even went so far as to say "Afro-Americanized"...so he knew what he said and what he meant to say.
Source