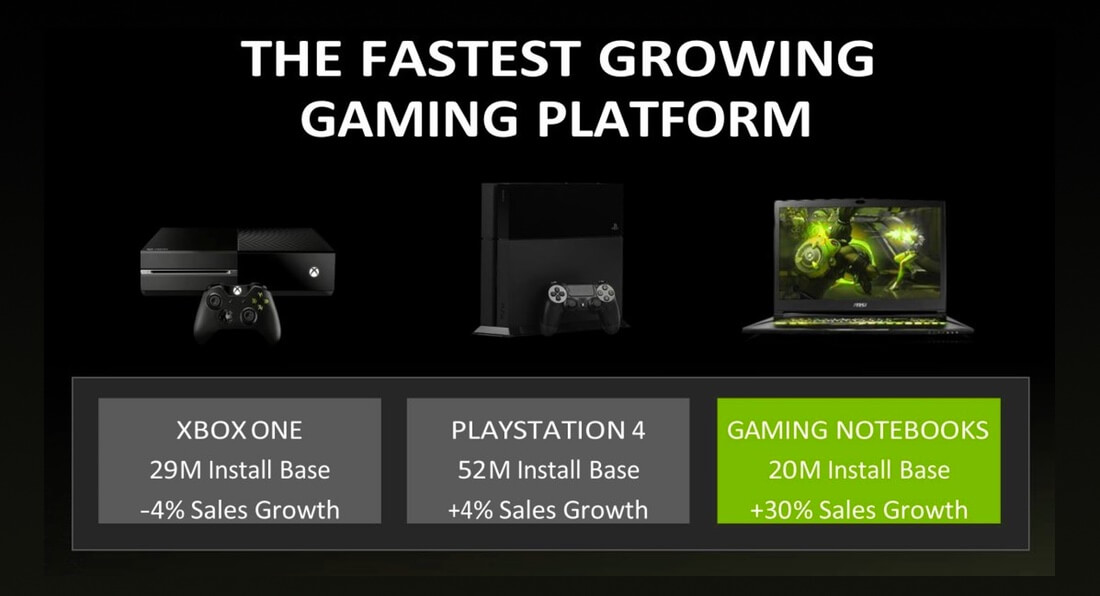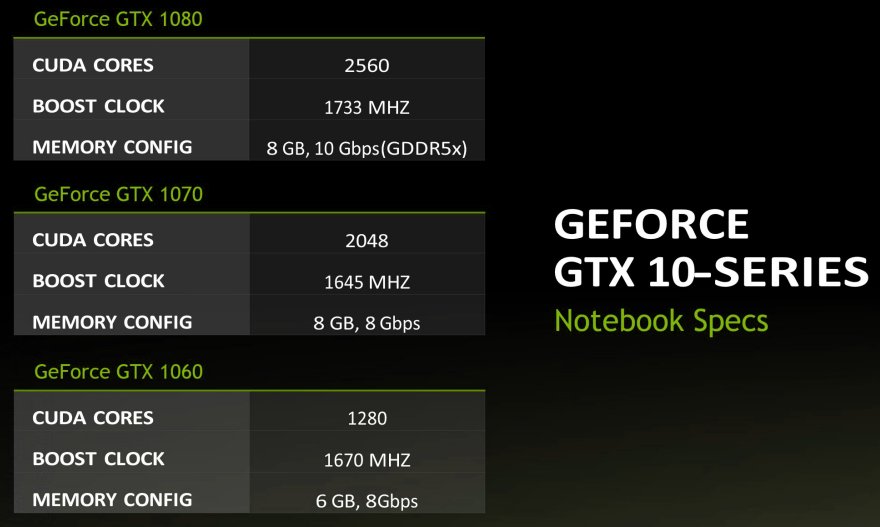 NotebookCheck: Nvidia Pascal for Notebooks - In-depth Benchmarks for the Geforce GTX 1080 (SLI), GTX 1070, and GTX 1060
Depending on the game, a single Nvidia Geforce GTX 1080 achieves the level of its desktop counterpart in the selected games with only a few percent difference. The Nvidia Geforce GTX 1070 also reaches performance on desktop level, which only differs by a few percent from its desktop counterpart in the selected games. It is impressive that the GTX 980M remains 40-45% behind its GTX 1070 successor, which corresponds to a performance gain of about 70%.
The wise saying that those who really want gaming on highest level should better use a desktop is obsolete at the latest with the current Pascal GPU generation from Nvidia. The high-end graphic chips used in notebooks with the same name perform about the same as their desktop counterparts apart from smallest differences. In addition, Nvidia defines the ceiling of what is currently possible with the GTX 1080 SLI graphic solution. This includes throughout smooth frame rates in the latest games in 4k resolution (3840 x 2160 pixels) and, therewith, best possible experience in VR applications. Compared to the predecessor generation (Maxwell), i.e. GTX 970M, 980M, and GTX 980, the performance gain gets fully apparent: +50-80 % performance gain speak for itself.

With +25 % compared to the GTX 980M, even the smallest solution of the new Pascal generation brings top-level performance. In addition, it can be used in slim and compact gaming notebooks thanks to a TDP on GTX 970M level. For the time being, no competition from AMD is in sight for high-end notebooks. While a mobile version of the Radeon RX 480 might be able to reach the performance of the GTX 1060, its cooling requirements might be higher.
www.notebookcheck.net/Nvidia-Pascal-for-Notebooks-In-depth-Benchmarks-for-the-Geforce-GTX-1080-SLI-GTX-1070-and-GTX-1060.171566.0.html
Therefore, we measured the energy consumption from the battery, disconnected. We took into account two scenarios: idle and load. The latter provided by running Witcher 3.
- Idle (system power)




- Load @ The Witcher 3 (system power)


http://pclab.pl/art70857.html
With this being a hard launch, NVIDIA has already started with shipements to their partners, and pretty much every single gaming laptop manufacturer is already shipping, or will shortly be shipping, updated product lines to take advantage of this new GPU. Most of the devices shipping now are going to be refreshes of existing product lines, but we may see some new designs in the not too distant future as well. NVIDIA is expecting designs around $1300 as a starting place, but I would expect several manufacturers to quickly get under the $1000 threshold on their competitively priced gaming notebooks.
www.anandtech.com/show/10564/nvidias-geforce-gtx-10series-for-notebooks-unveiled-launching-today
Last edited: