Aug 14, 2000
21,718
584
126
Introduction
After 3 years of solid service from my 1070 I picked up a 2070 as an upgrade. Here are the two cards:
https://www.gigabyte.com/Graphics-Card/GV-N1070IXOC-8GD#kf
https://www.gigabyte.com/Graphics-Card/GV-N2070IX-8GC#kf
I like mini cards. They offer fantastic performance in a very small footprint. Unfortunately while the 1070 was pretty quiet, the 2070 sounds like a vacuum cleaner in comparison. I don't think this style of form factor can cope with a hot Turing chip.

Aside from the huge memory bandwidth advantage, the 2070's other specs are mediocre relative to the 1070. But we'll see how the cards compare in real benchmarks.
Setup
Code:
4790K | 16GB DDR3L-1600 | Asus Z97-K | 960GB Crucial M500 | Seasonic Titanium Fanless 600W | Corsair 400C | 27" Acer XB271HU |  nVidia driver 431.36 | Win7-64 (Oct 2019 rollup).
I've been targeting 1440p up until now but I plan on buying a 4K gaming monitor soon. So to test the effect of the 2070 upgrade, I set my games to 4K DSR but left their other settings as-is, with the exception of disabling anti-aliasing across the board.
My target is 75FPS locked to gsync and these are the worst-case scenarios for the games. So if they run fine here, they're a solved problem for me.
Results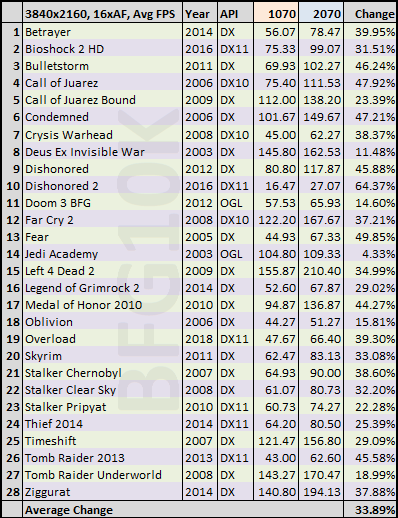 Comments
I was expecting about 25% overall so this is better than I thought. Some of those creaky old games run over 40% faster.
#10 is my slowest game and I badly needed extra performance there. It's still too slow for 4K but it also now runs much better at 1440p as well.
Historically #13 seems to be memory bandwidth bound, and this continues to show here.
#7 - can it run Crysis at 4K? No, some settings are using high instead of very high.
I've returned the card because it's unbearably loud. Also my motherboard and PSU both died a day after installing it! It's probably a coincidence as the store stress-tested the card for 2 hours without issue, but I didn't want to take the risk. I still plan on upgrading my GPU soon so I'll keep an eye out for more deals. I'll have more numbers from my new system when I do.
New System Results
I've retested the games on the new system with the 1070. The specs that have changed are below:
Code:
9600KF | 32GB DDR4-2666 | Asus B3650M-K | EVGA Supernova G3 Gold 550W | Win10-64 (May 2019)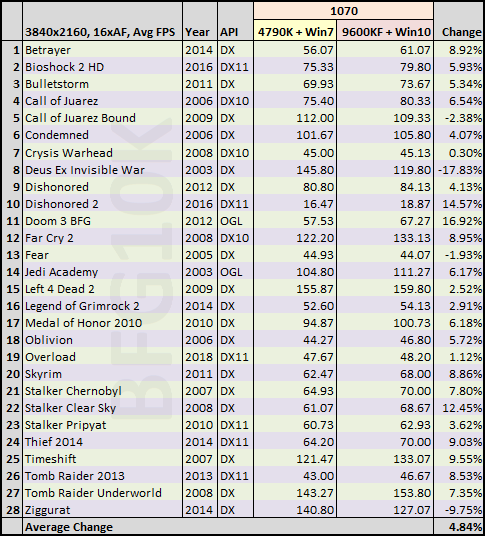 #8 seems to slow down related to Windows 10 running DX8/7 games in borderless window mode. I've also noticed some games have higher input lag compared to 7, though this problem can be reduced by disabling full screen optimizations. Aside from that it seems to run all my old games just fine, which is a huge relief. Classics like C&C Renegade, Quake 3 and No One Lives Forever run just like they did on 7.
Last edited: