Aug 25, 2001
51,357
6,587
126
Not a hot deal: $219.00 from HP:
Maybe a hot deal: $59.99 *REFURB* from a Newegg Marketplace seller (Computer Headquarters):
Also on ebay:

Find many great new & used options and get the best deals for HP Radeon R7 450 4gb Barfish 2 FH Gddr5 917881-001 Video Graphics Card GPU at the best online prices at eBay! Free shipping for many products!
How bad can a card with DisplayPort/HDMI/DVI be, with 4GB of GDDR5? Seems modern.
Anyone know the specs on this card, like number of CUs or shaders or cores? CNet has specs, but it says "DDR3" for memory, so who knows what other of their specs is wrong.
Data sheets - AMD Radeon R7 450 4GB Card (Z9H52AA)

h20195.www2.hp.com
TPU has some specs, but all three variants of their cards, show "no outputs", like this was some sort of early compute card, and doesn't have display outputs. Which HAS to be wrong, the HP page and specs clearly call out an HDMI, DVI (with DVI-to-VGA adapter in box), and DisplayPort, and "Support for 4 displays".
AMD Cape Verde, 925 MHz, 512 Cores, 32 TMUs, 16 ROPs, 2048 MB GDDR5, 1125 MHz, 128 bit
www.techpowerup.com
So I'm not really sure what to make of this card. Sort of an enigma. I ordered a few to play with, hopefully the picture on Newegg is accurate, and they DO have display outputs.
I figure that they can't be much worse than an RX 550 4GB GDDR5. Indeed, TPU's specs refer to a 7770 Cape Verde Islands die, but with 512 shaders instead of the full 640 shaders. So, basically similar to an RX 550, I guess (although that is 14nm Polaris).
Edit: Now I'm thinking that driver support MAY be IFFY on these cards, if they are OEM-only, and not naturally-supported as GCN-variant cards by AMD's normal driver distribution packages. Hopefully, Win10 will be able to pull in a working driver for these cards off of the internet somehow, even if that's true.
Not sure how these are for gaming, will have to maybe see if one can run the Heaven 4.0 benchmark. I'll see how it stacks up to a GT 1030 2GB GDDR5 (19.x FPS in "Extreme") and a GTX 1650 4GB GDDR5 card (53.x FPS in "Extreme").
UserBenchmark does have some entries, some with different PCI IDs, hence three different listing groups all called "R7 450".
Edit: Here's a listing at walmart.com, with some more specs (sold out, $99.99):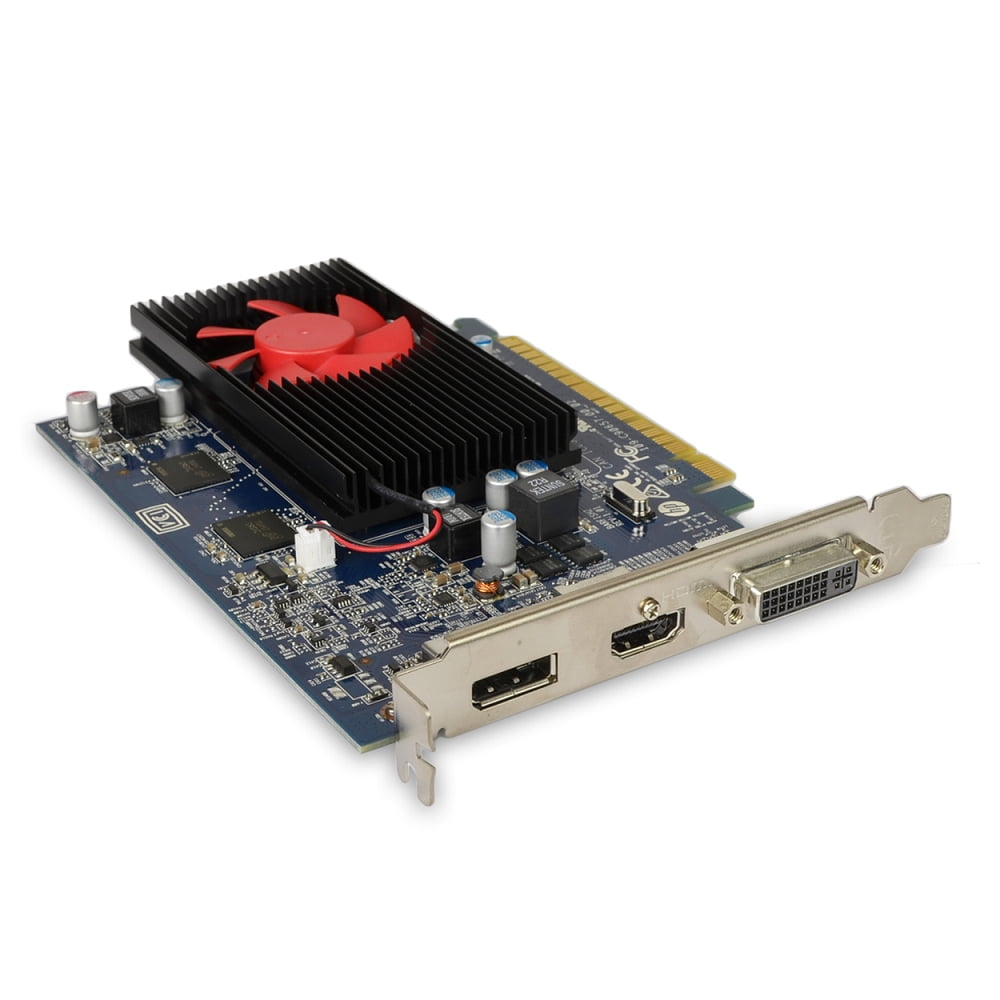 Free 2-day shipping. Buy HP Radeon R7 450 4GB GDDR5 PCI Express PCIe DVI Video Card HDMI DisplayPort at Walmart.com
Edit: Seems that these cards came out around 2016-2017?
Here's a gameplay video with one of these cards, and an i5-7400 (Kaby Lake quad-core) on YT:
Doesn't seem so bad, really.
Last edited: