Sep 13, 2001
52,648
5,550
126
I want to preface this post by saying that this is dealing with my arcade cabinet and a JAMMA game.
That said, I have a couple games that require a separate ATX PSU to power the game. Most JAMMA games are just a board (or two connected) that plug into the JAMMA harness and the game just plays like that.
But I have a couple where the game is basically a computer running a linux drive that boots into the game and then there is an I/O board that connects to it and the JAMMA harness connects to that.
Those games are using some standard PC hardware. It's just a normal motherboard, cpu, RAM, and ATX PSU.
I recently got 2 of these games and ran out and got 2 ATX PSU's from Microcenter since I assumed any old ATX PSU would be fine. Here is the exact PSU that I got.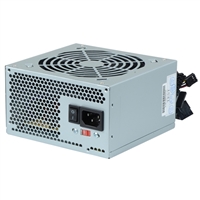 Get it now! Affordable and Reliable Solid Gear Basix SDGR-400BX deliver efficiency 400W power to your system. It provides efficiency and affordable power to your system. It also produce better airflow. This entry level power supply cosumes less energy.
www.microcenter.com
Here is a pic of what the one game in question looks like all mounted.
Upon setting it all up I quickly noticed there was screen interference that was bothersome. I'd see some 45 degree lines scroll across the pic when it was darker and the picture looked "fuzzy". I took a video but it was pretty hard to see it in the video.
I then decided to try out the PSU in my desktop PC. It's an old Antec NeoPower 550. And wouldn't you know it - immediately the interference was gone. I mean it was 100% gone. I then took the PSU out of my desktop case just in case and tried it that way, and again, there was absolutely no screen interference.
So that narrowed it down to the PSU as the 100% reason for the interference.
I have taken some ground readings with my multimeter and the new PSU's I got, when I take the reading from the ground pin on the main plug of the PSU to the housing on the PSU, I get a reading of 0.1ohm. If I do a reading from any of the plugs that plug into the HDD and either the housing or the ground pin of the main plug, I get a reading of 4.5ohm on one and then 5.0ohm on the other. And again these are both of the PSU's I got from Microcenter.
If I take the reading from the PSU that is in my desktop, it looks like the housing isn't even conductive as I get no readings at all. If I take a reading from the ground pin on the main plug to a ground pin on one of the HDD plugs, then I get a reading of 0.1ohm. So that right there is much different than the reading on the other PSU.
I don't know much about PSU's and electricity in general at all, but I took those readings for people who asked about it on the arcade forum I post on. I thought I'd give it a shot here too and see if anyone has any ideas.
One thing to keep in mind as well is that on the ATX PSU's that I bought from Microcenter, on both of them I have messed with the wiring a little bit because I wired them to a relay so that they power on as soon as the arcade machine powers on and then power off once the machine is off. To do that I had to splice into a ground wire on the PSU as well as the green switch wire on the PSU and attach them to the relay. All of that is working fine.
HOWEVER, then I did these readings up above, I had removed the relay from the equation and I soldered the wires back together. I took as many variables out of the equation to see if I could get rid of the interference but it never happened. But right now, I have all of the wires connected and the ground wire and green switch wire I had spliced into, I now have them soldered back together again. I bring that up because I am not sure if that could have any effect on the problems with screen interference I am having.
So does anyone have any ideas? Did I just get a crappy PSU? Is there anything I can do to fix this? I'm willing to open up the PSU and mess with stuff inside too if need be. I literally got one of the cheapest I could find because the game required 250w and this was 400w so I figured it would be just fine. The game works fine and everything, but the screen interference bothers me too much.
Thanks.