Mar 11, 2000
23,070
578
126
Notebookcheck had done an article on the 2017 Core m3 MacBook and got strange results in their repeated Cinebench R15 test, where they run Cinebench repeatedly for an hour. Scores in their test gradually decreased over time but then around the 15 minute mark on the 8th run the score dropped like a rock - CPU throttled hard.
https://www.notebookcheck.net/Apple-MacBook-12-2017-Laptop-Review.230656.0.html
I wasn't too happy seeing that behaviour, so I decided to test this out myself. I did 25 sequential runs of Cinebench over the course of 65 minutes or so. Ultimate geekery I know.
I am happy to report that my results didn't follow Notebook check's at all. Here are my results:
264
261
259
258
258
258
257
255
255
253
254
257
257
257
256
255
255
254
252
252
251
250
254
258
258
Note though that only the first 10 runs are truly accurate IMO. Part of the way through the 11th run I had moved the computer over a little bit and all of a sudden the scores improved again for several runs. I attribute that to the fact that new spot on the table was cooler. To confirm this, after the 22nd run I moved the computer again and yep, scores went back up again.
Extrapolating from the curve, it would have taken about 12 runs to get below 250, from the initial first score of 264. That means it would have taken about half an hour of sustained load to drop around 5-6% in performance, in this fanless computer, which by the way has a TDP-up config. (Base clock of this chip is usually 1.1 GHz, but it's 1.2 GHz in the MacBook.)
It also scored and behaved much better than all of the m3, m5, and m7 MacBooks from 2016 in Notebookcheck's face-off:
https://www.notebookcheck.net/Face-Off-Apple-MacBook-12-Core-m3-Core-m5-and-Core-m7.172046.0.html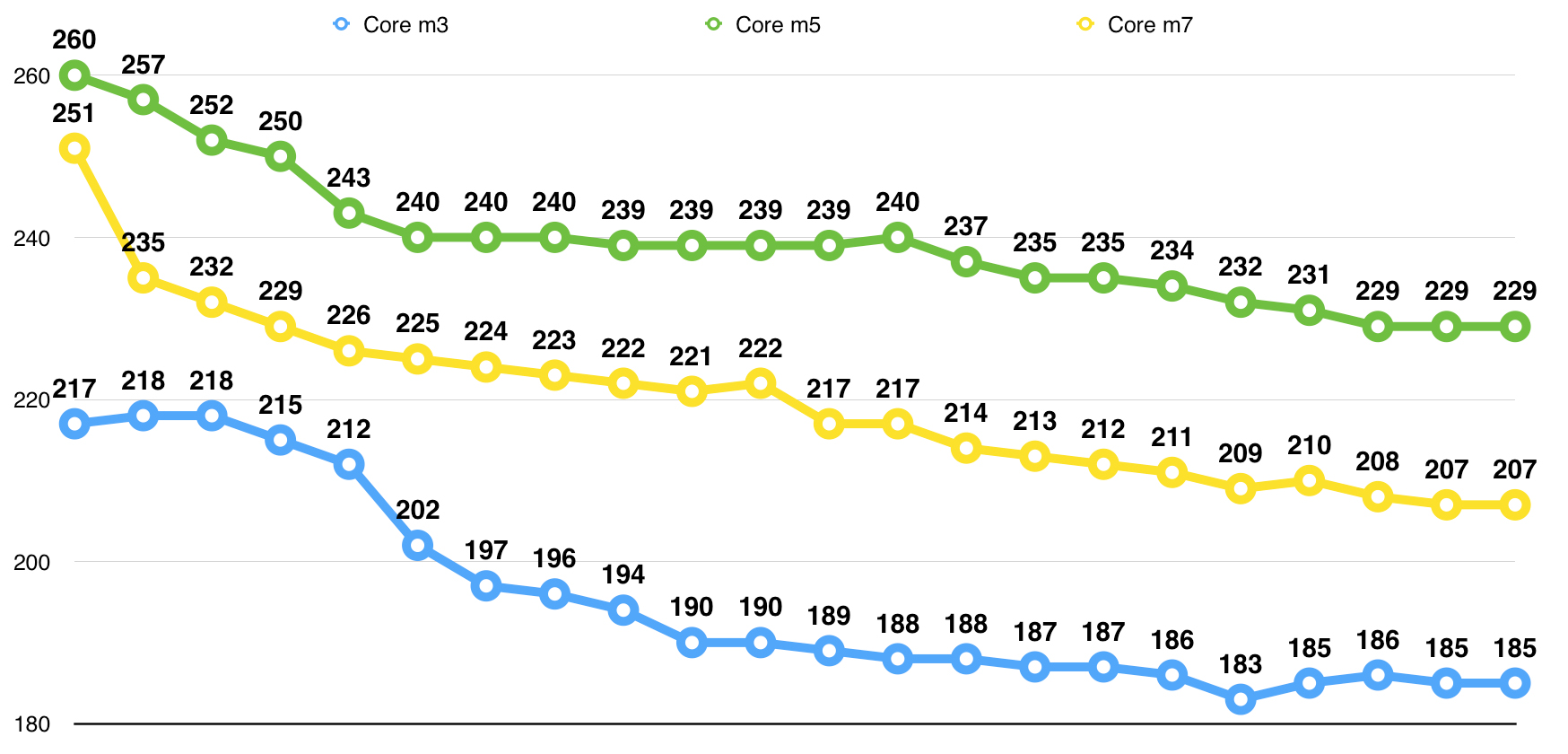 BTW, in their 2016 test, the m7 does worse than the m5.
Needless to say, I am pleased with the fanless Kaby Lake Core m3.