Jan 3, 2001
41,754
1,965
126
My 2006 Yard Machine tractor mower just blew a piston (it was pretty dramatic....smoke, fire, shrapnel...the whole 9 yards). Did a lot of research and convinced myself to get a battery powered ZTR mower.
I present-----THE GREEN MACHINE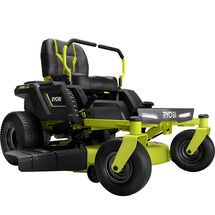 RYOBI specializes in making pro-featured power tools and outdoor products truly affordable. RYOBI is the brand of choice for millions of homeowners and value-conscious professionals.
www.ryobitools.com
It will do 2+ acres on a single charge, they're very quiet, and there's no gas/belts/oil/engine to deal with. Anyone have one to give their experience? YouTube reviews all seem to be very positive. Supposed to be delivered in two weeks. Seems like Ryobi was one of the first to market with electric mowers and the big names are all playing catchup. I have a battery Greenworks Pro push mower that's been fantastic, so I'm eager to try this thing out