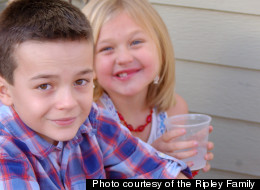 Last week Jackson Ripley was watching political news coverage with his mom about pre-existing health care when he suddenly got up and decided it was time to write a letter to Romney.

The letter begins (Editor note: all text from letter remains unedited):

"Dear Governor Romney, I'd like to say congratulations on winning the republican nomination. But, I wish you stayed in Massachusetts. You're plan for America isn't what we need, and would hurt us more than it would help."
If this kid REALLY wrote this letter, I want to know where he is being schooled! The American education system isnt as bad as it seems, our kids can still write and they still have a chance to compete with kids abroad. His parents probably wrote this or edited it for him, but I really hope these thoughts are his and not his parents'.
I also feel bad for his sister battling two conditions. I have a pre-existing condition too (although NOWHERE near as terrible) and I purchase private insurance, although I havent been denied by Blue Cross, I have to wait for 6 months to get covered. I hope his sister can get coverage from someone....somewhere.
Jackson's strong political beliefs appear to have, in part, grown naturally from his family's life experiences beginning with his little sister Kennedy who has had pre-existing conditions since she was just 4 weeks old.

Shortly after Kennedy was born, she developed a hemangioma -- an abnormal, raised tumor of blood vessels -- on her face. According to her mother, Lindsay Ripley, only 10 percent of children are born with a hemangioma and less than one percent of the cases are life-threatening, like Kennedy's.

The tumor grew so large that at just nine months old, Kennedy was diagnosed with congestive heart failure.

"She was very ill and in and out of the hospital for the first two years of her life. During which she had several procedures, surgeries, MRI's, CT's and hospitalized many, many times, making her our million dollar baby when she was around a year old," Lindsay Ripley told The Huffington Post.

In 2009, the flailing economy left Lindsay's husband John Ripley briefly without a job, and the family no longer had health insurance. John Ripley was employed again just three months later, but the smaller size of the company translated into a burgeoning reality that the family would have to shop for insurance elsewhere.

And everywhere they shopped they were accepted, except for Kennedy.

"Next to my daughter's name in big black bold letters was the word DENIED. The reason: Dollar amount previously spent, number of hospitalizations within five years and the pre-existing condition, congestive heart failure.
12 Year old, Partisan Hack
Last edited: