So I don't know how to word the question or I'm sure I could find specifics elsewhere but I'm stuck on this one. My parents had a house built 8 or so years ago, they had Cat5 wiring setup through the entire house with the phone lines and coax cables. They live in the middle of no where so for the first few years, high speed internet wasn't even available to them. Finally the local phone company started offering broadband DSL. When it was setup I don't know who's idea it was to have the modem/router put in the upstairs bedroom but that's where it is.
All of the phone, Cat5 and coax cables run to a box in the Master BR closet in the bathroom, downstairs. The phone lines are all connected through a few Leviton Telephone Expansion boards as well as all the Cat5 cables that go to the rooms.
Anyway when the internet was hooked up the guy installed a filter in the upstairs and he cut the green and white cables from the phone line and ran it right into the filter, the filter connects to a filter/splitter that says DSL/Phone so it's not just for the internet.
If there were a phone outlet on the wall in the closet I would just try and wire the filter in there and connect the router/modem to the Leviton board and have internet to all the rooms, but the only way I have figured to get the outlets to work period is to connect the router/modem to the Cat5 wall jack by the router/modem and then run a cable on the Leviton box to the according room.
I'm basically trying to find out how to get my router/modem to the closet without having to run a phone line from another room or pay the tech guy to come out. (There are no actual phone jacks in the box or closet, only the Leviton boards that take Cat5)
I feel if I could find the main phone line and the green and white cables for it I could wire the filter to it, but I don't want to ruin their house.
I will provide pictures of the entire setup, except for where the main filter is, just imagine a wall jack with two coax cables on top and a phone line and Cat5 jack on the bottom with a white and green wire just sticking out the side attached to a filter.
This is the Leviton board in the closet the middle is what connects to the phone outlets, every other jack on the sides. The bottom port is a blue line that is what i believe to be the main phone line input. The blue cable from top right to bottom left is from upstairs bedroom to the living room via the Cat5 wall jacks. (Router is plugged into upstairs port to connect cable to PC in the living room)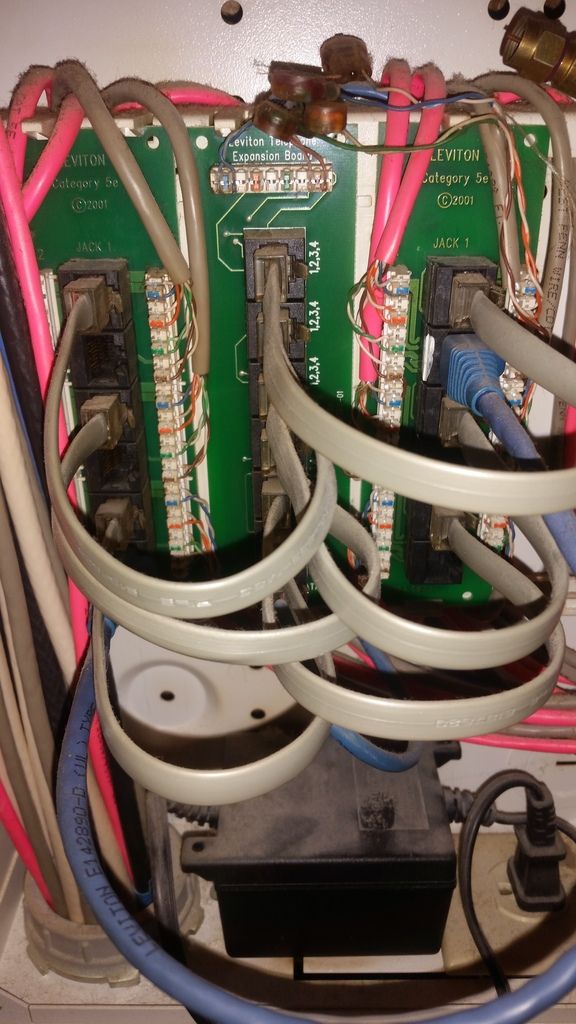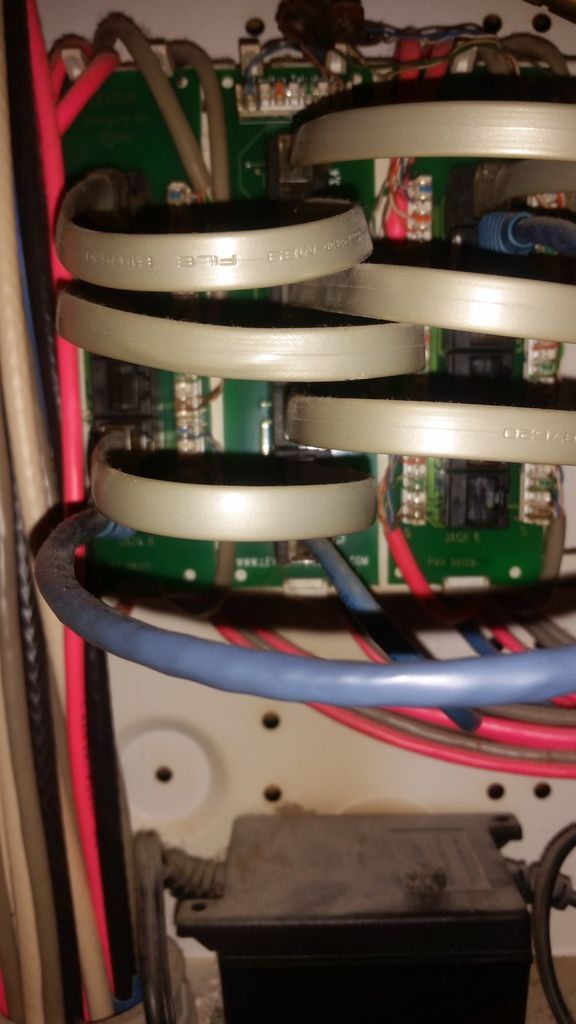 This is what the wiring and DSL box the guy installed outside the house