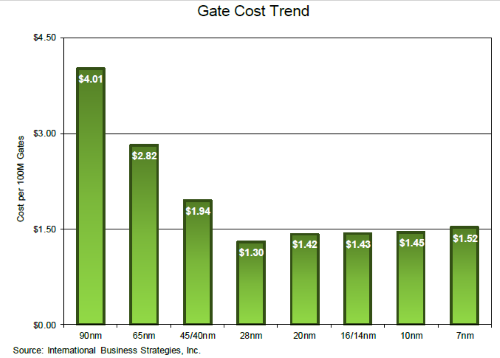 http://www.eetimes.com/author.asp?section_id=36&doc_id=1329887
The number of gates or transistors per unit area increases as feature dimensions are reduced, which is growing at a higher rate than wafer costs. Conversely, systemic and parametric yields decrease as feature dimensions are reduced, which gives the higher gate cost.

In an ideal environment where yield per unit area is constant with the reduction in feature dimensions, there can be a decrease in gate cost. This, however, is not the reality in the real world due to the increasing impact of overlay and other factors that affect yield. There are also improvements in performance and reductions in total power consumption with smaller feature dimensions, but the penalty is higher gate cost.
The foundry market at 180nm is still in high-volume production. The 300mm wafer volume at 28nm will be above 150K WPM for the next 10 to 15 years. Consequently, new process technology options can have a lifetime of 20 to 30 years.
Intereting they're still saying costs go up from 28nm to 20nm. I thougt that was outdated and cost per x'tor went down at least a little bit. If this is indeed the case, then Intel's will gain quite an advantage since they're projecting steady decline from 22 to 7nm, at least as big as historically. But of course that's only with constant yield. But that's also with TSMC/Samsung: this graph assumes yield decreases just as much as density goes up, which sounds quite a lot.
Last edited: