Introduction EVGA Supernova 750 G+ Gold Power Supply EVGA is without a doubt one of the best-known brands in terms of PC parts and components. With most knowing them for the Nvidia range of graphics cards, they are also one of the most popular suppliers of high-performance power supplies. As...

which annoyingly cuts the graph off at 20%, or 150 watts.

but that likely does not matter, as he is using a 3070 which is >200w card.
Outside of the really top-end versions, 80+ doesn't require a particular efficiency below 20% of rated capacity, so it's not surprising they cut it there. It probably won't matter all that much since if it's a good PSU it will probably be fairly efficient even when the GPU or most of the system is idle.
Here's a graph for an 80+ Gold PSU that AT reviewed: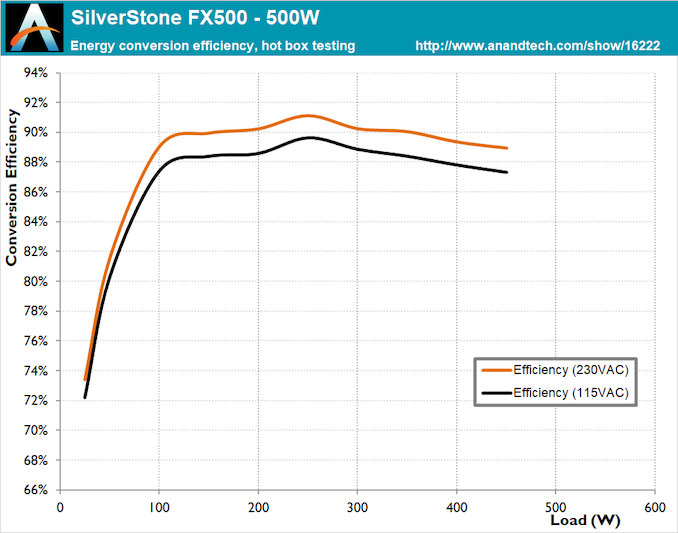 It's still probably getting above 80% efficiency any time it's seeing any kind of light use. I tried to see if I could find any reviews that had a PSU that wasn't 80+ certified, but couldn't find any. There were a few that were 80+ Titanium which requires at least 90% efficiency at 10% of rated capacity and the graphs for those tend to start out at around 86% efficiency at the lowest draw amounts so you can get better.
Honestly these days you probably need to go out of your way to buy something that isn't 80+ certified. I checked on Newegg which has 680 different 650W PSUs. 604 of them have some level of 80+ certification, and Gold is the most numerous with over 55% of PSUs having at least that level of certification.
The cheapest models which don't appear to have any certification (or at least don't claim to) look to be older kit. An extra $10 and you start seeing 80+ Bronze PSUs, so even if you're trying to put together a low cost build it's still pretty easy to get an efficient PSU these days.