- May 31
Radeon RX 480: Launching June 29th For $199+
First off, the RX 480 will include 36 CUs. If we assume 64 stream processors to a CU – the GCN standard – then this brings us to 2304 SPs. AMD has not named the specific Polaris GPU being used here, but given the CU count I believe it's reasonable to assume that this is a Polaris 10 SKU, as I've already seen Polaris 11 and it's a very small chip better suited for notebooks. AMD also revealed that the card would offer over 5 TFLOPs of compute performance. Given what we know about the CU count, this allows us to estimate the GPU clockspeed. This puts the lower bound of the GPU clockspeed at 1.08GHz and an upper bound (6 TFLOPs) at 1.3GHz, which would be in the range of 10-30% higher clocked than comparable Radeon 300 series cards.

In terms of raw numbers this puts the RX 480 just shy of the current Radeon R9 390. However it also doesn't take into account the fact that one of the major focuses for Polaris will be in improving architectural efficiency. I would certainly expect that even at the lower end of clockspeed estimates, RX 480 could pull ahead of the R9 390, in which case we're looking at a part that would deliver performance between the R9 390 and R9 390X, with final clockspeeds and architectural efficiency settling just how close to R9 390X the new card gets.

http://i1024.photobucket.com/albums/y303/martmail55/amd-rx-480-polaris-4-900x506_zps4b4zs5ql.jpg

On the memory front the card is equipped with 8Gbps GDDR5, running along a 256-bit memory bus. This is the typical bus width for AMD x80-series cards, and the high clocked 8Gbps GDDR5 means that we're looking at a total of 256GB/sec of memory bandwidth to feed the RX 480's GPU. AMD's partners will be offering both 4GB and 8GB cards, and for the purposes of this teaser I assume that pricing information will be for the 4GB card, with 8GB serving as a premium option. Cementing its place as a mainstream card, the RX 480 pricing will start at $199. Finally, AMD has also revealed the TDP for the RX 480, stating that it will be a 150W card.
www.anandtech.com/show/10389/amd-teases-radeon-rx-480-launching-june-29th-for-199
Polaris: NDA ends on June 29th
Above you can see the NDA paper that reviewers are told to sign as they arrive. The date expires on 29th June, which many of you will find strange. However this is exactly what we were expecting. Official 'hard launch' of Polaris GPUs was planned for early July. This date indicated that on Wendensday June 29th we might be seeing first reviews of Polaris graphics cards. At worst this would mean AMD will allow reviewers to release more information about Polaris architecture, however since this is almost a month after June 1st event, then actual GPU reviews are more likely to be the case.

Finally, now that they've revealed the price and much of the specifications of their first Polaris card, AMD is also releasing more details on their overall development and market positioning strategy with Polaris. As AMD has hinted at in the past, Polaris is being specifically developed for and aimed at the mainstream market.
http://videocardz.com/60373/amd-polaris-tech-day-nda-ends-on-june-29th
No Computex/E3 launch. Hopefully there will be availability no later than July.
AMD Radeon RX 480 specifications leaked
http://i1024.photobucket.com/albums/y303/martmail55/AMD-Radeon-RX-480-Specifications_zpsxk1qo9z7.jpg
http://videocardz.com/60752/amd-radeon-rx-480-specifications-leaked
- June 13: PC Gaming Show 2016 @ E3 2016
AMD's E3 2016 PC Gaming Show Live Stream (11:30 AM Pacific)
Watch it live here:
https://www.twitch.tv/pcgamer
https://gaming.youtube.com/pcgamer
AMD Announces 470 and 460 along with 480 launching June 29th
The products include the Radeon RX 480 graphics card, which can run virtual reality on a PC for prices starting at $200 for a four-gigabyte version. AMD is also showing the Radeon RX 470 and the Radeon RX 460 cards. They go on sale on June 29.

The performance will also be the equivalent of "console class" performance, meaning that many games that currently run on the PlayStation 4 or Xbox One could theoretically run on these chips on the PC, if someone ported them over. The PCs using these chips would have low power and compact form factors. AMD said it could run such games at 60 frames a second at 1080p HD resolutions.

AMD chief executive Lisa Su showed off the chips at an event at the Electronic Entertainment Expo (E3) in Los Angeles today.

"Gamers and consumers today are being left behind," said Raja Koduri, senior vice president and chief architect, Radeon Technologies Group at AMD, in a statement. "Today only the top 16 percent of PC users can afford GPUs that deliver premium VR and gaming experiences. Hundreds of millions of gamers have been relegated to using outdated technology. Notebook gamers are often forced to compromise. And tens of millions more can only read about incredible PC VR experiences that they can't enjoy for themselves. That all changes with the Radeon RX Series, placing compelling and advanced high-end gaming and VR technologies within reach of everyone."

AMD said the RX 480 can run VR on the Oculus Rift and HTC Vive headsets. It supports DirectX 12 and Vulkan graphics standards, enabling high-end graphics effects. The Radeon RX series supports new monitor technologies and supports HDMI 2.0b and DisplayPort 1.3/1.4 standards. It has accelerated h.265 encoding and decoding for better video streaming at 4K resolutions at 60 frames per second.
http://venturebeat.com/2016/06/13/a...w-cost-polaris-graphics-chips-that-can-run-vr
Looks like RX 480 is full P10, RX 470 the cut down version and RX 460 is Polaris 11 for desktops.
AMD unveils Radeon RX 470 and RX 460 Polaris graphics cards
Radeon RX 470 (Lisa Su's right hand), Radeon RX 460 (left hand)
LOS ANGELES—AMD has unveiled two new graphics cards based on its latest Polaris architecture, the RX 470 and the RX 460. The company says the RX 470 is ideal for 1080p, 60FPS full HD gaming, while the RX 460 is for e-sports players looking for a small low-power graphics card (just 75W) that offers high frame rates in games like Overwatch and League of Legends.

AMD didn't go into technical details on either card, but it's a good bet that the RX 470 will feature a slimmer version of the chip inside the RX 480, a mid-range graphics card designed for VR and 1440p gaming that's due out on June 29. AMD hasn't priced either the RX 470 or RX 460, or announced a release date, but given that the RX 480 is set to retail for $199 (for a 4GB version), they'll likely be light on the wallet.

AMD's didn't go into further details on the Polaris architecture behind the two new graphics cards either, but we do know that Polaris is new 14nm FinFET manufacturing process that's allowing AMD to shrink down its GCN architecture to a far more efficient level. Polaris isn't designed to take on the likes of Nvidia's GTX 1080 and GTX 1070, and is instead aimed at the mainstream, with the top-of-the-range RX 480 offering VR-ready performance. The RX 480 will feature 36 compute units, along with some fast GDDR5 memory attached to a 256-bit memory bus for 256GB/s of bandwidth.

Going after a mainstream audience is potentially a very smart move for AMD. It has struggled to compete with Nvidia at the high-end of the market, despite some decent efforts in the form of the R9 Fury range. Be reaching volume at cheaper price points, the company can hope to claw back some of the market share it has lost to Nvidia, which has traditionally not fared so well at lower price points.
http://arstechnica.co.uk/gadgets/2016/06/amd-rx-470-460-specs-pricing-release-date
- June 15:
AMD confirms Polaris 10 and Polaris 11 specifications
It is now confirmed that Polaris 10 has 36 Compute Units (2304 Stream Processors), while it's slower brother features 16 CUs (1024 Stream Processors). Smaller Polaris chip is also confirmed to feature 128-bit memory bus.

AMD claims that Polaris architecture has 2.8 times the performance per Watt compared to older architecture (unspecified which arc).
http://cdn.videocardz.com/1/2016/06/AMD-Radeon-RX-400-Polaris-8-900x506.jpg
http://cdn.videocardz.com/1/2016/06/AMD-Radeon-RX-400-Polaris-1-900x506.jpg
http://cdn.videocardz.com/1/2016/06/AMD-Radeon-RX-400-Polaris-5-900x506.jpg
www.computerbase.de/2016-06/amd-radeon-rx-480-vr-benchmark
A Bit More on AMD's Polaris GPUs: 36 & 16 CUs
First and foremost, AMD's presentation included a slide with pictures of the two chips, and confirmation on their full configurations. The larger Polaris 10 is a 36 CU (2304 SP) chip, meaning that the forthcoming Radeon RX 480 video card is using a fully enabled chip. Meanwhile the smaller Polaris 11 (note that these pictures aren't necessarily to scale) packs 16 CUs (1024 SPs). This puts it a bit below Pitcairn (20 CUs) before factoring in GCN 4's higher efficiency. Meanwhile as is common for these lower-power GPUs, AMD's slide also confirms that it features a 128-bit memory bus.

AMD is expecting Polaris 11 to offer over 2 TFLOPs of performance. Assuming a very liberal range of 2.0 to 2.5 TFLOPs for possible shipping products, this would put clockspeeds of a high-end Polaris 11 part at between 975MHz and 1220MHz, which is similar to our projections for RX 480/Polaris 10. Note that AMD has not yet announced any specific product using Polaris 11, however as we now know that RX 470 is a Polaris 10 based card, it's safe to assume that RX 460 is Polaris 11, and the over-2 TFLOPs projection is for that card.
www.anandtech.com/show/10424/a-bit-more-on-amds-polaris-gpus-36-16-cus
- June 28:
Radeon RX 480 Architecture Presentation
http://videocardz.com/61557/rajas-super-secret-cigar-stash
- June 29th
Radeon RX 480 Reviews
- Performance
- Power Consumption
- Performance per Watt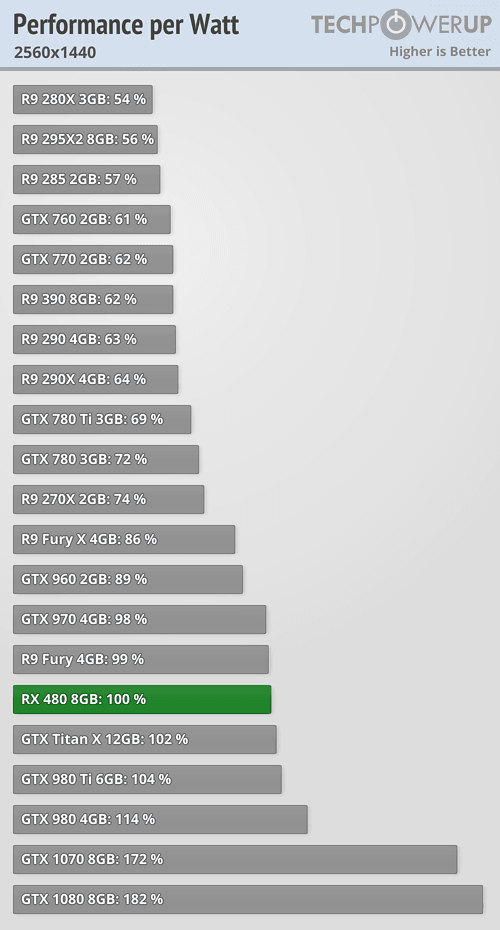 - Performance per Dollar
Guru3D
http://www.guru3d.com/articles-pages/amd-radeon-r9-rx-480-8gb-review,1.html
Gamespot:
http://www.gamespot.com/articles/amd-radeon-rx-480-review/1100-6441354
Legit Reviews:
http://www.legitreviews.com/amd-radeon-rx-480-video-card-review-polaris-arrives_183428
TechPowerUp:
https://www.techpowerup.com/reviews/AMD/RX_480/
TechPowerUp - Crossfire:
http://www.techpowerup.com/reviews/AMD/RX_480_CrossFire/
TweakTown:
http://www.tweaktown.com/reviews/77...card-review-starting-rebellion-199/index.html
PCWorld:
http://www.pcworld.com/article/3089...-whats-possible-with-a-200-graphics-card.html
HotHardware:
http://hothardware.com/reviews/amd-radeon-rx-480-polaris-gpu-review-hitting-the-sweet-spot
PC Perspective:
http://www.pcper.com/reviews/Graphics-Cards/AMD-Radeon-RX-480-Review-Polaris-Promise
Tech Report:
http://techreport.com/review/30328/amd-radeon-rx-480-graphics-card-reviewed
Tweakers:
https://tweakers.net/productreview/136089/amd-radeon-rx-480-8gb.html
Digital Foundry 1080p:
https://www.youtube.com/watch?v=YTku-GqDSWg
Digital Foundry 1440p:
https://www.youtube.com/watch?v=Z5YrKM-M7pQ
Engadget:
https://www.engadget.com/2016/06/29/amds-radeon-rx-480-is-the-new-king-of-budget-video-cards
ArsTechnica:
http://arstechnica.co.uk/gadgets/2016/06/amd-rx-480-polaris-review
AnandTech:
http://www.anandtech.com/show/10446/the-amd-radeon-rx-480-preview
Eurogamer:
http://www.eurogamer.net/articles/digitalfoundry-2016-amd-radeon-rx-480-review
bit-tech: h
http://www.bit-tech.net/hardware/graphics/2016/06/29/amd-radeon-rx-480-8gb-review/1
Hardware Canucks:
http://www.hardwarecanucks.com/foru...2889-radeon-rx480-8gb-performance-review.html
Tom's Hardware:
http://www.tomshardware.com/reviews/amd-radeon-rx-480-polaris-10,4616.html
HardOCP:
http://www.hardocp.com/article/2016/06/29/amd_radeon_rx_480_video_card_review#.V3PKevkrKUk
ComputerBase:
https://www.computerbase.de/2016-06/radeon-rx-480-test/5/#diagramm-f1-2015-2560-1440
Techspot:
http://www.techspot.com/review/1198-amd-radeon-rx-480/
PCGamesHardware.de
http://www.pcgameshardware.de/AMD-Radeon-Grafikkarte-255597/Specials/RX-480-Test-1199839/2
Last edited: