Check out the blog by Firaxis, it sounds pretty revolutionary for us crossfire users, presuming it works. The low level GPU control sounds like it will reap some serious benefits and it looks like mantle is getting some serious commitment. The mantle benefits are looking pretty amazing as long as it's not buggy. Have you guys tried it out?
Firaxis focuses on Civilization naturally, however this should be relevant with other games going forward. Bring on the smooth crossfire.
I look forward to bf5 if they use mantle and if it's not buggy like bf4.
http://www.firaxis.com/?/S=813e3681d1d3b6dd7acf207d46fbe7bc42a940ee/blog/single/mantle-multi-gpu-for-civilization-beyond-earth
Current multi-GPU solutions are implemented in the driver, without knowledge of, or help from, the game rendering engine. With the limited information available drivers are almost forced to implement AFR, or Alternate Frame Rendering, which is an approach where individual frames are rendered entirely on a single GPU. By alternating the GPU used each frame, rendering for a given frame can be overlapped with rendering of previous frames, resulting in higher overall frame rates. The cost, however, is an extra frame of latency for each GPU past the first one. This means that AFR multi-GPU solutions have worse response time than a single GPU capable of similar frame rates.
...

we implemented a split-screen (SFR) multi-GPU solution for the Mantle version of the game. Unlike AFR, SFR breaks a single frame into multiple parts, one per GPU, and processes the parts in parallel, gathering them into the final image at the end of the frame. As you might expect, SFR has very different characteristics than AFR, and our choice was heavily motivated by our design of the Civilization rendering engine, which fits the more demanding requirements of SFR well. Playing the game with SFR enabled will provide exactly the same quality of experience as playing with a single, more powerful GPU.

We do not claim to have the perfect multi-GPU solution with Civilization: Beyond Earth, and our current implementation has does have some limitations. Our split-screen rendering probably won't get the same frame rates as AFR techniques, and we are currently limited to 2 GPUs. Some machines (especially those with slower CPUs) may not see high performance gains, and the highest gains will be seen at higher resolutions. However, we believe the time is ripe for multi-GPU machines to provide a user experience just as good as single-GPU systems, and with the explicit multi-GPU control provided by AMD Mantle we have started working to make this a reality.
What does this result in?
From an Anandtech addendum.
http://www.anandtech.com/show/8643/civilization-beyond-earth-crossfire-with-mantle-sfr-not-actually-broken
Extremely high minimums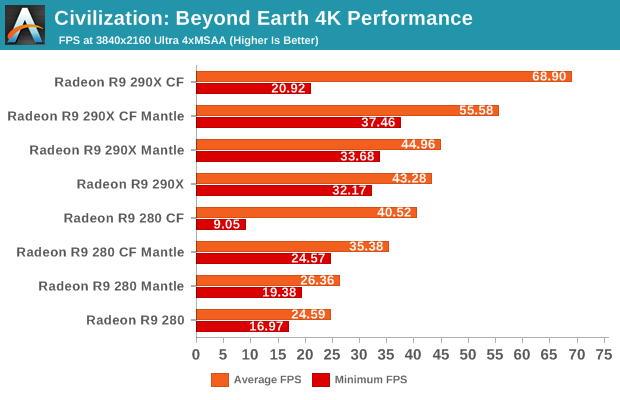 Unbelievably smooth XDMA mantle crossfire gameplay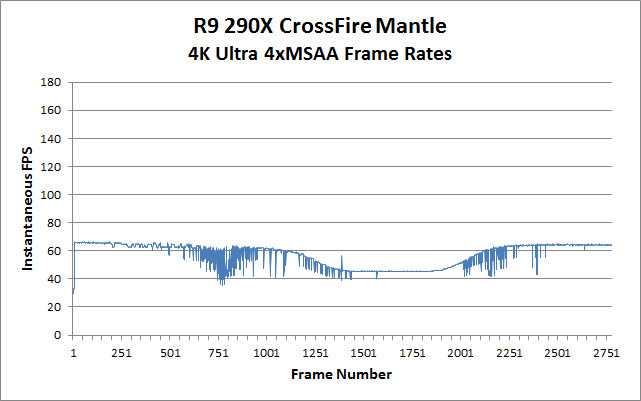 So it appears to sacrifice the higher FPS with a frame of latency for smooth high quality FPS which performs identically to a single card with higher performance.
To me it appears to be a great alternative to dx and really highlights some potential that Mantle brings. It's interesting to see the resurrection of a technology and it appears to be a massive success.
As for the somewhat lesser FPS, I am very satisfied that I can choose to run a game in crossfire for more power, but it will not sacrifice gameplay and is revolutionary in how well it works. I hope they don't drop dx so you can choose to run with the benefits of AFR or SFR as you want, but I can see why they chose to optimize mantle the way they did. I haven't seen anything this substantial in dual card setups ... ever?
Keep the thread on topic please.
Last edited: